Sale win Christmas cracker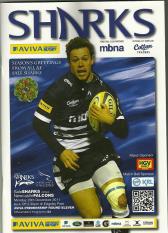 By Leipziger
December 27 2011
The Falcons failed to give their fans a late Christmas present in Stockport yesterday, going down 27-19 to Sale thanks to two sloppy lapses allowing the hosts to score their tries, while Nick Macleod's boot secured the home victory.
Returning to the Premiership for the first time since the tighter-than-tight 26-25 win over Gloucester at the start of December, Newcastle would have been, if not confident, then at least hopeful of three wins from the festive programme.
Jimmy Gopperth was restored to fly-half and Rob Vickers made his first start since September, having recovered from injury. Taiasina Tu'ifua was in the back row with Will Welch and Ally Hogg, Tim Swinson partnering James Hudson in the second row. Despite playing in Toulon last weekend, Luke Fielden was nowhere to be seen as Luke Eves and Suka Hufanga took the wingers' shirts.
Rob Miller, once of the North East, was full-back for the North West's team, the 2005/06 Premiership champions in case you'd forgotten (or haven't seen the relevant massive signs at Edgeley Park recently).
The Falcons lost Corne Uys early on to injury, and Jeremy Manning came on as a winger, pushing Eves into the centre. The late call-up of Andrew van der Heijden onto the bench for Tom Catterick meant our loose backs on the bench were now used up.
Good thing we didn't find ourselves 16-0 down in the first half. What's that? Oh, right. So with less than 10 minutes gone Tom Brady broke from his own half and the Falcons failed to close him down, allowing an easy try. You'd never imagine the same thing happened when we played Gloucester.
Macleod followed up his conversion with a monster penalty from within his own half, and then kicked another two.
The Falcons finally found their feet and James Fitzpatrick dropped a pass with the line tantalisingly close. We put together a good spell of possession but when Sale conceded a penalty, Gopperth was instructed to take the points.
A try by Manning from a run down the far right and the resulting conversion got us back into the game at half-time, 19-10 down, though it could have been better had Gopperth not missed with a long-range penalty.
Gopperth knocked over two penalties in the second period but on the hour confusion at the base of a wheeling scrum just inside the Sale half of the pitch saw Mark Cueto break and outpace Eves to score a deflating try.
Still, even at 24-16, there was optimism among the away fans that the Falcons could pull it off. Gopperth kicked another penalty, taking us back into range of a bonus point, but Macleod answered within seconds. His fifth penalty and a knock-on in the dying minutes left us with nothing from an almighty effort in an exciting match.
So now we all become Leicester fans for the day. And dare not lose to Northampton on Saturday.