Friday night fight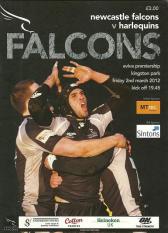 By Leipziger
March 3 2012
The Falcons inched closer to Wasps after drawing with Harlequins last night in an eventful and at times brutal clash at Kingston Park. The league leaders struggled with our tough approach but a last-gasp penalty by Nick Evans secured the Londoners a share of the spoils.
Quins manager Conor O'Shea, who marched on the pitch at half-time to have a go at the officials, was less than complimentary about our style of play while many of our visitors' supporters have also expressed their displeasure and hopes that we will be relegated. How times change.
But more of that later. The Falcons were dealt a blow before the game with Euan Murray pulling out due to injury while Grant Shiells was only fit enough for the bench, Jon Golding starting his first league game of the season. Adam Balding and James Goode were also replacements as Adriaan Fondse returned from suspension and Taiasina Tu'ifua got a start.
Harlequins went ahead early on through a penalty by Nick Evans but Jimmy Gopperth equalised. The quintessential yellow card for the Falcons came just after the quarter hour when it looked like Chris Pilgrim was blocked from making a tackle, but referee Andrew Small decided that he had actually taken out a runner.
While Pilgrim was off away hooker Chris Brooker was stretchered off with what was apparently a hyper-extended knee, and hopefully he will be back soon from his painful-looking injury. James Hall needed temporarily replacing for a cut to the head and former Falcon Pete Browne came on for Ollie Kohn.
The first half was attritional and ended 3-3, but it had been intriguing and thoroughly enjoyable. There might have been more points but for both Kiwi kickers hitting posts and knocking penalties wide. Who says a gritty forward battle can't be entertaining?
Already voices were getting hoarse too.
Evans again put Quins into the lead with a penalty after the restart, Gopperth again equalising. The referee was really starting to come into his own with some quite baffling decisions, giving Quins a scrum for their knock-on before quickly realising his error.
Balding, Goode and the returning Alex Tait were all thrown on by Gary Gold and Ashley Wells replaced Hall permanently, probably not a bad move since the Falcons' scrum was going backwards anyway.
One decision we were grateful for though was a penalty on our five-metre line after a sustained period of Quins pressure. Throughout the move I couldn't help thinking that it could be a pivotal moment in our season. Winning the penalty should have given us a massive confidence boost.
Gopperth missed what looked like a good penalty, though then again it was at the South end and from the Irish game we know that touch judges sometimes just guess down there.
Rob Vickers, on his 100th appearance for the Falcons, was sent to the sin-bin with 11 minutes to go for a punch, although it looked to me like the referee didn't do anything until a Harlequin steamed through to try to exact some retribution. Unlike in Golding's case two weeks ago, retaliation went unpunished on this occasion. If I saw it right of course.
But soon the Falcons got a penalty right in front of the posts, and Gopperth despatched it with ease. Eight minutes to go, 9-6. Keep your head, keep calm and don't do anything stupid!
The Falcons drove and defended valiantly, until with the seconds slipping away, Quins won a scrum on their far right. As our forwards pedalled backwards a penalty was awarded and Evans broke Geordie hearts by sending it through the posts.
The initial mood was one of despair, that we had lost two points at the death. But then again the Falcons can be proud of how they fronted up to a team that did not look like potential title-winners. Although I hope that is what Harlequins become in May.
We won't know until this afternoon whether or not this draw was a good result, but I'm sure that come 3pm this afternoon we will all be feeling a little bit Irish.
I was a little surprised by the reaction of many Harlequins' fans to last night's game, especially those wishing for us to be relegated. Those of you who have read this site for many years may remember that back in 2005 I wrote that I wanted Quins to go down over the other relegation candidates of the time.
You'd think I'd shot their mothers, the way many of their fans condemned me for my comments that were apparently not in the spirit of rugby. One saw no hypocrisy in stating that I should not wish ill on another team, while also saying he didn't care who went down as long as it wasn't Quins.
I suppose what goes around comes around.
But last night showed that we are not licked yet. That was a very hard game but we came out of it with two points and now have three weeks for Gold, Wells, Ford etc. to sort out our terrible discipline that is yielding penalties and yellow cards aplenty each game over the past few weeks.
See you all in Worcester!