Five thoughts from Newcastle v Saracens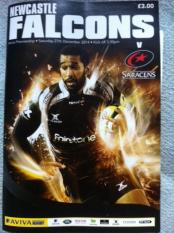 By Leipziger
December 28 2014
Some Sunday lunchtime thoughts from in front of a roaring log fire:
1) Entertain them and they will come. Over 9,000 were at Kingston Park yesterday. Although most if not all clubs will get a boost to their Christmas crowds (I believe the Premiership guarantees each club at least one home game in the festive period), 9,192 is a super figure considering how our support has lapsed over the past six years. The fact that the Falcons are now playing an entertaining style of rugby is surely a huge factor in us beating previous Christmas crowds – the equivalent game against Wasps last season attracted barely more than 6,000 – and, as against Gloucester, the bumper crowd were treated to a good show that almost saw us beat one of Europe's top teams. Well done, Falcons!
2) Captaincy considerations. Two incidents stick out in my mind when considering the relative influences of the two captains yesterday. One was when the referee, an assistant and the TMO were considering Alex Tuilagi's touchdown and the big, tall, barbarian-like Alistair Hargreaves was making his presence felt with the officials. Another was when we were penalised for dropping a maul and young, clean, softly-spoken Will Welch simply stuck his arms out on the floor and asked what was happening, without then getting up and making his feelings known to the referee. Rightly or wrongly, I imagine that Hargreaves had the greater influence, and that can only be to his team's benefit. Welch is a very good player, but he doesn't make his presence felt as well as some other captains.
3) Squad depth. Looking at the team Saracens named on Boxing Day, off the top of my head I thought of four players not in their extremely-strong starting lineup who would probably get into ours – David Strettle, Schalk Brits (injured of course), Richard Wigglesworth and Kelly Brown. I forgot Brad Barritt and Duncan Taylor. Mark McCall's side had four reliable goalkickers in their starting backline. Losing by two points to such a team is no disgrace.
4) Try, try, try again. In 2013/14 we scored 23 Premiership tries in total, this season we already have 22 at the halfway stage. The most we have scored in recent times is 38 in 2008/09, which is surely the next attacking target. On the defensive side, we have let in 25 scores so far in eleven games, a pro-game improvement on the 62 in the whole of 2013/14. So in terms of five-pointers, things are looking up.
5) Targets for 2015. Though Gloucester and Wasps have today's meeting in hand, the bottom half of the Premiership now looks like this: Wasps 26 points, Harlequins 24, Gloucester 20, London Irish 16, Falcons 15, London Welsh 1. It would take a monumental turnaround from Welsh, plus a huge collapse from ourselves or Irish, for anyone other than the Oxford side to be relegated, so we have to now look upwards and achieve the best finishing position we can. Having said that, if we were to finish eleventh with eg. seven wins, I wouldn't see that as a disaster, because we would have made a lot of progress on 2013/14 and you can't control what other teams do. Tenth or higher would be nice though!
Bonus thought) Thanks everyone for reading in 2014, and Happy New Year!
More Newcastle Falcons headlines
Newcastle Falcons Poll