Five thoughts from London Irish v Newcastle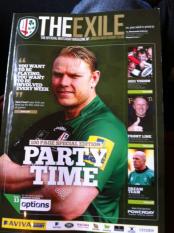 By Leipziger
March 29 2015
The Falcons made a go of it in the second half but couldn't quite overhaul London Irish's first-half advantage, losing 22-21 at the Madejski Stadium. Some things that have come to mind overnight:
1) Selection problems in the centre. Juan Pablo Socino has been a great creative force for us this season, but I thought Adam Powell had a blinder in the number twelve shirt yesterday. Powell made numerous breaks, got a deserved try, and was at the heart of our best attacking play.
2) Basic errors – practice or rustiness? The Falcons made more handling errors than I've seen for a while yesterday, and neglected to use wingers properly on a few occasions. This contributed to not scoring when very much on top in the second half. I thought maybe the three-week break contributed to this apparent lack of sharpness. Obviously London Irish had the same break so it's not an excuse for losing, but I do wonder why they don't play the LV= Cup semi-finals earlier, most probably the middle Six Nations weekend. It would give more time to sell final tickets and surely two little breaks for most teams would be better than one big pause?
3) Still in the changing room. For years, the Falcons were very much a first-half team, but now we often seem to struggle in the opening stages and then come back in the second half, with varied results. We might well have won yesterday but for a slow start, but the game lasts eighty minutes and they all count. An eighty-minute performance is the holy grail we are still searching for, but it's still proving elusive in the Premiership.
4) The bomber is back. Several London Irish fans have been waxing about Chris Harris on the internet since yesterday, and the returning winger looked very dangerous when he came on in the second half and produced a great finish for our first try. Harris now has seven tries in eleven first team appearances, a ratio that probably won't be sustained, but a good run-out after injury suggested he should be given more games before the end of the season.
5) Boo yourself! Remember Bristol at home in 2008, when Matt Thompson took a pounding from his own team's 'supporters'? I was reminded of that game yesterday as I stood near a couple of guys who were neither big fans of Noah Cato nor shy in expressing this fact, often shouting it towards the pitch. We all have players we rate and don't rate, but remember that these guys are putting their bodies on the line for our entertainment, and abusing someone won't make them play any better. For the eighty minutes of the game, maybe we should try to practice "If you can't say anything nice, don't say anything at all".
Player ratings: A Tait 7, N Cato 6, G Tiesi 6, A Powell 9, S Sinoti 7, T Catterick 7, R Tipuna 7, R Vickers 6, S Lawson 7, K Brookes 7, K Thompson 7, D Barrow 6, R Mayhew 8, W Welch 7, M Wilson 7.
More Newcastle Falcons headlines
Newcastle Falcons Poll