Tales from the Shed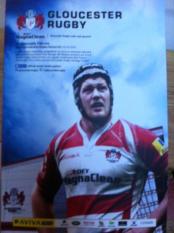 By Leipziger
April 26 2015
Home games are good, they're the bread and butter for supporters. We enjoy the comfort of the familiar, we have our seat or our 'spot', and most of us will get home relatively quickly, even to deepest rural Cumbria.
But away games are fantastic. A long journey and a day out in another town, going into other supporters' back yards (or lion's den, in the case of the Shed) and trying to conquer. Though we often fail, there's usually a decent in (or several in Gloucester) to chew the fat with fellow travellers and the home crowd.
Below are some off-pitch things that went through my head as we powered north on the M5 on a rail replacement bus to Birmingham this afternoon.
Trying out new material on the road
If it's good enough for Bart Simpson, it's good enough for us. So we debuted a new (to my knowledge) song yesterday: "You've only come to see Sinoti" repeat ad nauseum. I think "He scores when he wants" works better for Chris Harris anyway, given their comparative try-scoring ratios.
Getting to know you
It doesn't happen every game, but when you get a few independent travellers staying over at an away game, it's a great opportunity to get to know people better and find out more about their lives off the terraces. To that end, thank you to Barbancet, Donegalfalcon and Zackary71 for your company over a Nepalese curry last night.
Emptying your tank somewhere else
Determined that the day after wasn't going to turn into a car crash like happened at Saracens away in February, Mrs L and I decided to listen to our knackered heads and head back to the hotel early last night. Well, 10pm. Thus I was in a reasonable state to go for a run in suburban Gloucester this morning - always a good way to see parts of a town that you might not otherwise see as well as work off some of the away day excesses. Which in Gloucester of course means pie and chips as well the usual alcoholic intake.
Make sure you go to the right bar
Those of you who know me, will know that I prefer my ale brown rather than real. It was good that at Kingsholm, rather than having to wait in a long real ale queue, I could just go to the 'other drinks' bar and pick up a lager instantly. Mrs L didn't notice the difference however, and at half-time returned with two pints of Doom Bar. Despite the unpleasant aroma, it wasn't a terrible pint, a bit of fruit and fizz, and of course it's very popular across the land, but personally I wouldn't have it again.
Pick your shirt carefully
I've worn my Newport Gwent Dragons shirt to games before, but never had as many comments as yesterday. My favourite might have been "Come on you Scarlets!", presumably the Dragons' opponents at Judgement Day in Cardiff. Oh, and then there was the gentleman in the Shed who threw a rather tame insult at me (for my shirt, apparently) from ten metres away. If he thinks that's the worst thing a Geordie's ever been called, he must have led a very sheltered life.
Pick your bed carefully
Turning into the hotel last night, the asleep-on-her-feet Mrs L thought I'd led her into a nightclub. No, unfortunately the hotel bar had the music pounding. It finally ended at midnight, but my broken sleep was then shattered by a couple of fire alarms as drunken residents charged back to their rooms on the hollow floors and past our less-than-sound-proofed room door.
It gets better
At least we then had a bit of silence. Until 4am when a touring rugby team, possibly sixth formers but certainly some kind of student, finally got in and sang and shouted through the hallways. They must have been a bit away, as they were trying every room door. Fortunately we'd been sure to lock our door.
Remarkably, said team looked quite fresh at breakfast at 9am. I suppose you can do that in your late teens. Their coach driver, sat at the next table, probably hadn't appreciated being woken up at 4am though.
See you in Salford!
More Newcastle Falcons headlines
Newcastle Falcons Poll