Falcon speed beats Georgian power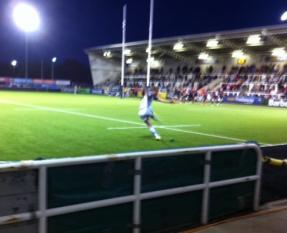 By Leipziger
August 29 2015
It was a night to remember at Kingston Park last night as the Falcons beat one of the best tier two international sides in the world 27-7.
Although only 2,355 (officially) were in attendance, those in the crowd were treated to an intriguing match that saw Georgia's powerful forwards throw everything at the Falcons in the first half-hour, but our defence held firm and a driving maul finished off by Scott Lawson even saw the Geordies ahead at half-time.
Though Georgia had looked strong for much of the first half, they struggled to put much pressure on in our 22. Their best chance came from a series of reset scrums but the home pack won the fourth clash against the head and cleared. The Georgia backs, though not great on the night overall, were denied a try when a dink over the defence was cleared up by Ruki Tipuna behind the posts, the scrum-half sending the ball far up the field.
So once the Falcons had weathered the Georgian pack's storm, they didn't seem in much trouble.
More tries came in the second half through Tom Catterick, Chris Harris (cutting a superb line through the middle), Alex Tait and George McGuigan, and Georgia also grabbed a consolation through gigantic captain and number eight Mamuka Gorgodze.
There was much to admire in the Falcons' performance, from the resilience of the defence and forwards in the first half to the quick linking of the backs, especially Tipuna and Catterick before the latter was forced off with an injury sustained while scoring his try. Craig Willis at full-back recovered from an early fumble to look steady and also direct well from fly-half in the second half. Harris had a thoroughly decent game as a creative force in the centre, and Scott Wilson was steady on his return from injury.
Mark Wilson was as lively and driving as ever in his second-half appearance from the bench.
In all, it was a decent work-out for the Falcons who still have a number of internationals and new signings to integrate, and though this was only a friendly, we could be forgiven for having optimism for the season ahead.
Just a note on the Premiership 7s – the timings of the Falcons' matches were quite convenient, the quarter-final against Scarlets kicking off at 7.20pm and finishing just in time for kick-off at KP, and then the plate semi-final v Exeter starting just after the half-time whistle in the Georgia game.
Unfortunately our team lost both matches at the Stoop but they were competitive in both games, particularly against Scarlets in a topsy-turvy 26-31 defeat. No trophy but hopefully the Falcons will have got other benefits out of the Premiership 7s.
More Newcastle Falcons headlines
Newcastle Falcons Poll