Rugby World Cup in Newcastle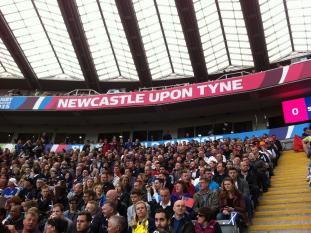 By Leipziger
October 11 2015
Though I haven't lived properly in Newcastle since a week after my eighteenth birthday, I'm a proud Geordie and I was very excited when it was first announced that The Greatest City in the WorldTM would host games in the Rugby World Cup.
I was initially a bit miffed by the ticket prices and that came back to haunt me as I received a grand total of zero tickets in the original ballot, but I finally managed to get hold of some for the final game at St James' Park, Samoa v Scotland, which took place yesterday.
Newcastle's World Cup Week began with a Legends game at our own rugby church Kingston Park, where more than 105,000 (officially) people saw World Cup winner Matthew Burke strut the hallowed turf again, along with some other greats of the game. That was the appetiser for three massive match-ups at the city's bigger stadium.
Things kicked off with Scotland v South Africa last Saturday and the city centre was awash with green and blue from the early morning – Mrs L and I got into town at about half twelve and the beer gardens were full. It was going to be a long day for some.
The atmosphere in the Newcastle Fanzone for the SJP game was rocking, and it sounded mad in the stadium. Plenty of Scots and South Africans who had not made it into the ground made use of the big screen and the copious sprinkling of bars to enjoy their two teams throw themselves at each other, the men in green finally coming out on top with a bonus-point win.
Humour was provided by Nigel Owens humiliating Stuart Hogg after the Scottish full-back had committed a dive. "That was a dive, come back in two weeks if you want to do that," the referee said. Owens makes fans laugh and he is obviously a hero for those who dislike the roundball game, but I can't imagine that comments such as this, or his "Christopher!" correction of Chris Robshaw, endear him to the players in his charge.
Anyway, getting back to the fanzone, after South Africa beat Scotland, the party really began in the marquee with the Blaydon Races pounding out of the speakers and supporters dancing up on the tables (I decided that the benches were high enough). Heineken and Strongbow flowed liberally as ten thousand rugby fans awaited England's game against Australia.
Enough words have been written about that game, so I'll just mention a couple of England fans sitting in front of us in the fanzone during it. One was a bit mad, shouting and throwing his arms around every time something didn't go England's way (I'm surprised he could still lift his pint by half-time!). His mate was a bit calmer and was quite apologetic when he knocked over my pint, offering to buy me another. He didn't offer to wash our now-alcohol-soaked jackets but I'm sure we were far from the only ones to need a trip to the dry cleaners this week!
England lost but the party resumed. The Leipy Krew moved on to the Newcastle Arms where the good lady fell asleep, and so we decided to get a taxi home.
The Sunday hangover wasn't quite as bad as that from Leeds the previous week (I don't think) but with England knocked out it seemed a good time to give our livers a rest – pledging to go Sober for (the rest of) October.
SJP's second match of the World Cup was on Friday night when New Zealand faced Tonga in what, on the face of it, should have been pretty one-sided. The floodlit stadium looked amazing on the TV and the Haka and Sipi Tau got 50,000 supporters roaring. Tonga never really threatened to win the match but they did make the All Blacks work for their (in the end) comfortable victory. Our Falcons lads Tane Takalua and Nili Latu put in strong performances and in Latu especially Dean Richards might have found a bit of a golden nugget.
Finally it was time for, for me anyway, The Big One: Samoa v Scotland. A win for Scotland would guarantee qualification for the last eight; a defeat would mean a nervous wait on the result of the Japan v USA match today. Samoa were looking to salvage some pride after a poor tournament by their standards, and needed a win to have any chance of qualifying automatically for 2019. The Islanders were missing local boy Alesana Tuilagi after the big man was given a controversial suspension following last week's meeting with Japan.
Scotland had the backing of the majority of the 51,000 fans in SJP but Samoa got off to a great start, tearing into their opponents and getting a try bonus point secure before half-time! It was only Greig Laidlaw's boot and an opportunist try by Tommy Seymour that kept Scotland in contention and Samoa will have been disappointed to go into the break just 26-23 ahead.
The scoreline notwithstanding, few in the crowd will have been disappointed by the entertainment on offer after 49 points in the first forty minutes, in front of a roaring atmosphere. Bottles of Heineken seemed to be everywhere, heck knows how many beers were drunk in the stadium yesterday but when you add a dash of Scot to a pinch of Geordie and throw in a snifter of alcohol, then the result is not going to be calm!
In the second half Scotland came out firing but they turned down a number of kickable penalties to instead aim for tries. Two penalties put them ahead and finally the breakthrough try came with ten minutes to go. Scotland were ten points ahead and the game seemed over, Samoa having had barely a sniff of the 22 in the second forty.
However, Samoa hit back quickly and with the scoreline at Samoa 33-36 Scotland, things were a bit nervy! The men from across the border held out though to guarantee second place in Pool B and a quarter-final clash with (it was later confirmed) Australia. As one would expect, the Scottish team were roared off the pitch by their hordes of travelling fans.
I'm not sure how the fanzone went last night as I headed back to my favourite post-match pub The Peregrine after a couple of drinks with some fellow Falcons in The Bodega, but no doubt any overnighting Scots made good use of it.
Newcastle has put on a great show for the Rugby World Cup over the past eight days and I am really proud that my home city has showcased itself so brilliantly. The whole atmosphere around the city centre on the two Saturdays at least has been amazing, so much fun. It might be a long time before we get something like this in Newcastle again but if the RFU didn't like Manchester last night, then SJP would make a good alternative for England's next trip north.
Well done to everyone involved in the World Cup in Newcastle, it's been a blast!