Something is wrong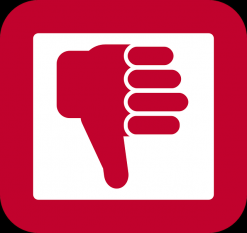 By Leipziger
November 1 2015
I left KP pretty quickly after full-time today, and when I got back to the car at Bank Foot station there was a gentleman pacing around.
He asked me the final score, and said he'd left the ground after an hour because the Falcons' performance was so bad. He was waiting for his mates, and had presumably been waiting for about twenty minutes.
I've never left a game early due to the score or performance, but today was the third time I've been tempted to. I've seen the Falcons play at Kingston Park well over two hundred times and that was one of the very worst home games I've ever seen. I'm not sure, but I think thirty-eight points may be a record home defeat margin for us too.
There was no creativity, no inspiration, little sign that the players really knew how to combine in moves.
What was perhaps most worrying was something that happened at around sixty-five minutes. The Falcons had the ball at the breakdown on our own 22 – I think we might have won a turnover – and out of about ten players in a line across the pitch, at least half barely moved and looked to have no interest in getting the ball, supporting team-mates or moving forwards.
That suggests to me a lack of confidence and very poor morale. Whatever, I think we can all agree that something is wrong at Kingston Park, and whatever has broken over the summer, it needs to be fixed quickly.
People will (and already have) blame the coaching team, and certainly they have work to do. On paper we have a good squad, but then it might not be as good as some of us think. I believe the players also need to have a good think, and that's where I'd start.
Since I'm going to be taking my first baby steps in the personal development industry this week, I'm going to offer the Falcons a suggestion on their initial response to today's game:
Tomorrow morning at 9am, get absolutely everybody involved in the playing side – from the physios right up to Deano and right down to the academy professionals – into KP. First, make it clear that this performance was absolutely unacceptable and it is everybody's responsibility to ensure that we do better in the future.
Second, give everybody a pen and paper, and tell them to spend half an hour in silence, thinking and writing down everything that they feel is working and what is not working within the club. These should be anonymous to encourage honesty, and common themes can then be worked on.
That's how I'd handle things anyway, before going on to the video analysis.
My final thought for now is something that I wouldn't have worried about if we'd won today or even played well in defeat:
In the first paragraph of Deano's programme column, Juan Pablo Socino is referred to as One Pablo Cappuccino. If that's a joke/nickname, then that's fair enough. If it's a result of somebody failing to proof the voice recognition typing, then it doesn't give a good impression of a culture of quality within a small and tight-knit business.
More Newcastle Falcons headlines
Newcastle Falcons Poll