Five thoughts from Newcastle v Saracens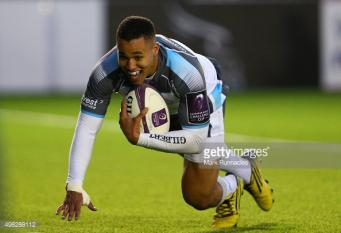 By Leipziger
December 6 2015
A few very quick thoughts before I tackle the A1(M) and A66.
1) Flying Watson. First, a positive. I thought Marcus Watson was very good today, fast and looking for work, and made a lot of key tackles, including one try-saver in the second half when nobody else had the pace to get back. Could be a real find if he continues his early form in a black shirt.
2) Kick and ye shall lose. Dear heck. In the middle hour of the game today, we were back to the old hit-and-hope that served us so poorly in 2013/14. It wasn't the worst kicking game I've seen us play. You can't blame the weather because a) it wasn't that windy come kick-off and b) our fancy expensive pitch is supposed to allow a running game in all weather. Maybe a lack of ambition at KP has been exposed and we are content just to survive in the Premiership, and Deano and pals have fallen for the 'You are in a relegation battle therefore attacking rugby is illegal' paradigm again. Maybe we went out thinking that if we played a running game, Saracens would whup us – well, they whupped us anyway, so go figure.
Mind, Saracens didn't any more bothered about entertaining than we did. Rant over.
3) Dodgy statistics. Our last two home Premiership games have seen us score six points and concede seventy-nine. Not very good and never mind that these games have been against top sides, a team looking to be competitive in the Premiership should not have two such large home defeats in a row. Bath in January must be a lot better.
4) The joy of six (thousand). I was surprised that we had a reasonably big crowd today, as when I pulled into Bank Foot car park at 2.15pm, there were plenty of spaces, which isn't normally the case so close to kick-off. Maybe lots of people took public transport.
5) Game faces back. Finally, another little positive. After the Exeter debacle, the Falcons seem to have improved quite a bit, and we've been more competitive including a draw at Sale. Today there was plenty off effort and some good stuff at the start and end of the game, but a huge gap in quality between the two teams, both in organisation and intelligence.
More Newcastle Falcons headlines
Newcastle Falcons Poll