Five thoughts from Irish v Newcastle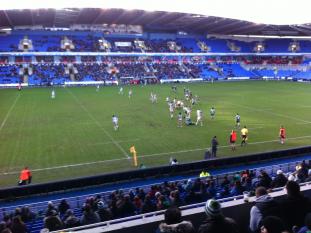 By Leipziger
January 10 2016
Five pints = five thoughts. Too bad it wasn't five points but one will have to do today. Some musings as I struggle to stay awake on the M6.
1) Two poor teams. If you'd brought a rugby fan with no knowledge of the Premiership to the MadStad today, and then asked at half-time where they thought the two teams were in the table, they'd probably say towards the bottom. Poor execution, simple missed penalties, little hope of a try, lack of ambition much of the time, few metres gained...just poor quality.
2) Five-minute mayhem. I used to hate Saracens' five-minute mayhem at Watford, as we invariably conceded a try during it. Today, the Falcons fell asleep just after half-time and Irish's two tries can be directly traced back to errors we made. We may have lost anyway bur these things don't help. Lewington's first try also shows the value of challenging for your own restarts - something the Falcons do only on very rare occasions.
3) Fly-half conundrum. Craig Willis had another decent game with the ball in hand, but missed two place-kicks that you shouldn't miss in the Premiership. No doubt he will keep improving, but in the last two games the reasons for Andy Goode's recruitment have become apparent - in a tight league, these points count. Goode showed up well when he came on today, but did not look quite fit enough for eighty minutes. How the number ten shirt is managed will be crucial in the coming months.
4) No panic. Of course the doom-mongerers are out, saying that the Falcons are as good as relegated as we sit one point adrift with twelve games to go, including visits from the two sides ahead of us. Well, if we are rubbish, then Irish aren't much better, if at all, and secondly, we only need to get two more points than them from twelve games to stay up, which is very doable. I'm not saying that would represent a successful season - that will depend on our final points total - but if relegation is your biggest worry, I wouldn't start tolling the bell just yet.
5) Play the game being played. The previous point said, we are in a relegation battle and everyone at KP will know it. But just as fans shouldn't panic, neither should the players and coaches. Each game needs to be played the best it can be on the day, without being distracted by the bigger picture, which will only increase anxiety and mistakes. Play each game to win it, get as many points as we can each week, and let the table take care of itself.
Bonus thought) The last couple of times I've been to the MadStad the bar service in the stands has been slow to the point of giving up - not so today. Short queue, chuck me a pint, get going. Well done!
More Newcastle Falcons headlines
Newcastle Falcons Poll