The jury has reconvened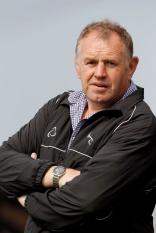 By Leipziger
January 19 2016
Dean Richards has not always been the most popular figure on the Kingston Park terraces, mostly due to a poor Premiership win ratio. I've always been a supporter of his.
Under Richards, the Falcons were promoted to the Premiership at the first attempt, and stayed up at the first attempt (just about), before improving massively in 2014/15. So everything was looking good for more progress this season.
I didn't expect the Falcons to finish in the top four in 2015/16, or perhaps even the top six, but I hoped that we'd keep playing the way we did in 2014/15 and win more games, making steady upward progress.
Just as any honest fan would admit that the Falcons made progress in 2014/15 compared to 2013/14, I have to concede that the first four games of 2015/16 suggested we'd gone backwards, and I am concerned about what Richards and pals were thinking during this period.
A negative style of play (that couldn't simply be explained by the absence of Sinoti Sinoti and Juan Pablo Socino) culminated in the horrific home defeat to Exeter and a shocking first half at Worcester.
Things improved with the draw at Sale, and the games against Leicester, Bath and (for the most part) London Irish showed sparks of hope, as our attacking game began to come back together.
I am completely discounting the Russian trip in this article, because I've been meaning to write this since after the Irish game and I've only just got around to it.
This article comes in response to a post that somebody (I don't remember who) wrote after the Irish game. This fan suggested that if we are relegated, Dean Richards should leave, and if we stay up, then Richards should stay because he is doing good work in developing young players. For me, it isn't that simple, and more than our league position, Richards' position should come down to how the team approaches the rest of the season.
To explain why relegation isn't the be-all and end-all of a coach's position, consider this: the Falcons could end this season with 15 points, gained from negative, defensive, defeatist rugby, and stay up. Or we could finish the season with 25 points, gained from a free, attacking and daring game, and go down. This is because we cannot, except for the two games we play against them, influence what London Irish do.
If the first few games of 2015/16 were a blip and we are going to approach the rest of the season positively, then it suggests the coaches will have learned their lesson about how we are most likely to win games and league points. So even if the Falcons are relegated, I'd stick with them. To get rid of Richards at this point, especially if you believe he is doing well in developing young players, would not be a decision for the club's long-term future – it would be gratuitous punishment. Cutting off our nose to spite our face.
If the Falcons are going to play negatively for the rest of the season, and hope to stay up by not losing games, then even if we do stay up then I might be inclined to make a change. Why? Because it shows that the coaches don't have the confidence to play an attacking game when in a relegation fight, when there is absolutely no reason not to.
Lets not have anybody spouting that garbage about us having to play a negative game because of the threat of relegation. In 2013/14 a negative gameplan got us 22 points, and in 2014/15 an attacking game brought 34 points (not to mention bigger, happier crowds). Anybody who has ever read a league table knows that a team are more likely to avoid relegation with 34 points than 22.
Of course, whether I believe Dean Richards and pals are the best people for the job doesn't make any difference, Uncle Semore will make the decision. But I like to be positive and I don't want to feel like the Falcons are going in the wrong direction. So hopefully we'll have an enjoyable rest of the season, playing the right way that is most likely to bring wins, and if relegation happens, it will only set us back one season.
The best case of all of course is that the team rediscover their attacking mojo, crack on and stay up for another go at the Premiership next year. I believe that's what we'll see.
Come on Falcons!
More Newcastle Falcons headlines
Newcastle Falcons Poll