Five thoughts from Newcastle v Worcester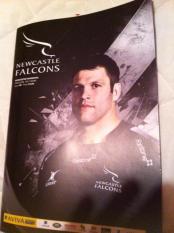 By Leipziger
March 4 2016
A few things I'm thinking about as I enjoy some left-over pizza and a bottle of Brown Ale.
1) Go-forward
Though the Falcons dominated possession and territory in the first half, we didn't have many clear chances, playing mainly between the halfway line and Worcester 22. That came back to haunt us as Worcester took the lead with the final play of the first half and then kicked on after the interval. To be fair, the visitors' high line of defence was well organised and the Falcons didn't have enough nous to break it down often enough. One incident that concerned me a little was with two minutes to go, the Falcons were attacking, and if ever there was a time to just go forwards and trust your teammates to support you it was then. But no, a player I won't name did that little jink that players do even when there is no chance of getting around an opponent, and his momentum was lost.
2) Flair's flair
I'm struggling to think of a back who played brilliantly tonight. Chris Harris might have been the pick for making some good attacking runs and getting most of his tackles right. We are seriously missing a fit Sinoti Sinoti and in-form Juan Pablo Socino though I feel, and if we run defences like Worcester's again that need a little bit of magic for us to unlock them, it might be worthwhile just throwing JP in and letting him play his way back into form. Whether that would be alongside the rock-solid Adam Powell or the maverick Harris is another question, but certainly we could've done with a bit of Argentine flair tonight. And some Samoan unpredictability.
3) Kick up the ****
I've mellowed a little on the kicking game over the last year – I see the benefit of the opposition having the ball in their half rather than us having it in ours. However, there comes a point when it gets predictable and the opposition just wait for us to give them the ball back. There has been a bit of hate for Michael Young, including someone shouting tonight: "Micky Young, you're rubbish!" (I felt like paraphrasing Bart Simpson: "At least Micky's trying, what are you doing to help?"), but he sends up so many box-kicks that it must be part of the gameplan, so blaming the lad himself is a waste of time. Kicks have their place, but as part of a varied gameplan and when used correctly.
Also on this topic, what was going on with Andy Goode's crossfield kick from right to left, when we had about three players on that side and little way to prevent Worcester coming forwards?
4) TMO = Too Many Occasions
I think Wayne Barnes probably ruled correctly that Marcus Watson deliberately knocked on in the final few minutes, however as he saw it straight away and gave advantage, why the need to go back and check it again on the screen? To decide on whether or not to show a yellow card? I'd have thought that would have been clear at the time, since Barnes had decided an offence had been committed immediately. Obviously we all want as many decisions to be correct as possible, but there has to be a balance to allow the game to flow, and referees should not be able to abdicate responsibility for making decisions as the sole arbiter.
5) Lighten up
Plenty of doom-mongering on this site tonight, and one comment I really didn't understand is that apparently all of our momentum from recent home wins has been lost. That's quite defeatist and a bit of an exaggeration. If anybody thought that the Falcons were going to go unbeaten for the rest of the season, even at home, they were being a bit unrealistic. We're not going to go on a ten-game winning run this season or probably next, and if anything we've been punching above our weight in the last couple of months. Our good run of form was going to end sometime, and the important thing isn't that it happened, but how we respond to it. I remember Sir Alex Ferguson once saying that he didn't tell his Manchester United players never to lose a game – he told them not to lose two in a row. Obviously that did happen sometimes, but the theory is sound: you can't stop there being setbacks, but you can react positively to them. The key is how the Falcons do that now.
Bonus thought) We are staying up
For all the doom and gloom from some people, and with all due respect to London Irish, can anyone really see them getting nine more points than we do before the end of the season?! The Exiles are away to Bath tomorrow – if they get nothing then the relegation battle won't be quite over, but I'd be surprised if the fat lady wouldn't be getting on her way to the theatre.