Reasons to be Cheerful, Part 3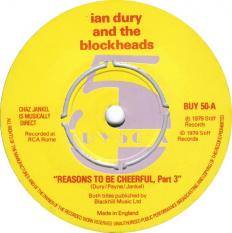 By Monkey1
April 7 2016
Those of you who are of a certain age will have a familiar tune playing in your heads by now. Back in 1979 Britain was a dump, literally. Rubbish piled in the streets, everything was shut down or on strike, the country looked like scrap, it was all doom & gloom. Then in the summer, along came this record from Ian Dury & The Blockheads, and in those days we had proper records that went round & round.
It was different from anything the band had released before, a funky little number, almost pop & almost rap. It was catchy & made people smile, indeed it was so likeable it got to number 3 in the charts, back in the days when the charts actually meant something.
So apart from allowing me to write something to keep the Falcons Message Board hamster in its wheel for another couple of weeks, what the heckers does this have to do with Newcastle Falcons? The answer is quite simple, it is the tune that came into my head when thinking about the position we find ourselves in yet again at the end of another season.
11th in the league table or actually getting relegated seems to have been our fate for so long now that it is hard to remember anything different. And here we are again, three games left and still right in there with a chance at the big prize of relegation. This season it has been a pretty even contest between us, London Irish & Wuss, all trying to out-shite each other. Wuss didn't have the stamina & by virtue of beating both us & Irish have scraped away from the bottom. At this point in the proceedings I should start flying the Falcons flag & point out that we are in a far better position than London Irish blah blah, but if you are reading this then you probably read the message board, and will have read all of that several times already.
No, at this point I ask the tricky question of why I don't feel downhearted or even question whether or not I will renew my season ticket, when the bare facts say I should be talking to my doctor about depression & wondering how to spend the nearly £300 I should be saving?
And it was when I realised that I am either a). clinically insane, b). so used to being in this position that I no longer notice, or c). quite contented, that Ian Dury & his Blockheads started doing their thing inside my head.
It was the combination of that song & realising that I don't feel like picking up the phone & swearing at Mick Hogan or Deano that got me thinking about the reasons that we do have to be cheerful.
First and foremost I suppose is the signing of Goneva from Leicester. It isn't the man himself or what he can bring to the club that makes me cheerful, it is the fact that we signed him at all. The man is still highly rated by the Tiggers supporters, one of their key players by all accounts, so what the bleeding heck is he doing signing for us! Well he is a professional rugby union player, he and his agent both know the Premiership inside out, and neither of them would condone him signing for a club that was a useless crock of the proverbial. If a man like that thinks the club is worth a shot then things can't be too bad.
Next random thought to drift through what passes for my mind was the recent planning consent for developing the North Stand. It is only a tiny issue but follows on the tail of installing our wonderful new pitch, teaming up with Newcastle Thunder, and the club buying back the ground we know & love at Kingston Park. Whatever happens, this club is in it for the long haul, there will be a next year and a year after that. We have a future.
And then we get to the management. Here it could go badly wrong, but no matter how hard I dwell upon it I remain quite happy with our lot. Just a couple of weeks ago I heard Deano talking about his priorities being survival in the Premiership, while building a good core squad for the future. He is thinking long term, and when things looked a bit hairy at the beginning of the season, Semore publicly praised him as a top DoR that he has faith in. Now Semore isn't the sort of owner who turns up on match day for the glory & ego of being the big man, indeed he is quite the opposite & keeps his head down. He is very much hands on, knows the club inside out & is involved in everything that goes on. He knows exactly what the management team are doing, what their aims are, what resources they have at their disposal, and the results that they are achieving from them. If he is happy with their progress then we who know bugger all are hardly in a position to know better. Captain Semore & his crew stay calm & steer the ship through sometimes stormy waters without any sign of panic, and that business-like aura gives me confidence.
We have been losing too many games, but the way we have been losing them is definitely not as bad as the table suggests. Bizarrely we seem to fare better against the bigger teams. Those who witnessed the surge of the comeback at The Stoop will have seen us dominate Quins, we had them all over the place, and the locals went awfully quiet when not far from the end of the game we came within three points. We have taken some good scalps this season from top teams yet have also allowed fellow bottom feeders Irish & Wuss to walk all over us. It is frustrating to say the least, but it shows that we are not far off being competitive against the big boys, and if we keep improving that then the nonsense of playing down to the not so big boys should sort itself out. In short we now look like a work in progress rather than just crap, which is what we used to look like.
So we come back to the summer of 1979 when everything truly was crap. Reasons to be cheerful, the most cheerful of those reasons being the end of the 1970s which even as a wee nipper I could tell was best forgotten. The Newcastle Falcons equivalent of that time has to be the summer of 2012. The three or four years leading up to that summer saw a steady decline in the club that was painful to watch. The heart of the team was slowly taken apart as quality players left including the talisman Jonny W, Dave Thompson having to publicly announce that his attempts to sell the club had fallen into the hands of hopeless people, rumours of debts & instability leading to utter loss of confidence in the club from players and supporters alike. It was grim, but even though we finally suffered the humiliation of relegation, it was the dawn of a new era. Reasons to be cheerful, Part Three. The awful dross that was the 1970s was finally over.
I have no idea what happened to parts one and two,
Semore arriving, the club feels thriving
Commotion of promotion back here.
New pitch in, mud in the bin
Survival over rivals, drink beer.
Sinoti Sinoti, drives us all potty
No flies on his tries looks class.
Goneva coming over in a Falcons pullover
IPA the beer in my glass
Reasons to be cheerful , part 3
Reasons to be cheerful , part 3
Reasons to be cheerful , part 3
Reasons to be cheerful , 123.