The South Stand Choir Awards 2015/16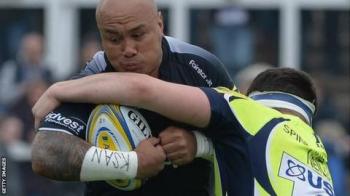 By Leipziger
May 24 2016
The good, the bad and the amusing from another season of joy, terror, tension, ecstacy, despair and laughter. Following the Falcons is like nothing else.
Player of the season: Rob Vickers has had another consistent, 8/10 campaign, and Will Welch has grown into the warrior role we've hoped for at number seven, becoming one of our most important defenders. Andy Goode deserves an honourable mention for short-term impact alone and Mark Wilson made an admirable cameo at lock in the new year. However, Nili Latu has been a revelation with an all-action season making light of his 34 years. Whether tackling, running or bashing, Latu is one of those players that inspires those around him with important contributions. Also the first Falcons player for ten years and one day to score a Premiership hat-trick.
Young player of the season: Since Sean Robinson isn't really that young at 25, I'm going to go for Craig Willis. Thrown in at the deep end in his first league start at Leicester after injuries to Mike Delany and Tom Catterick, Willis performed admirably in his first full season in the senior team. 53 points from ten starts and six sub appearances don't tell the full story of a player who ran our backline with confidence, and at just 21 he has plenty of time to improve further and potentially become our full-time number ten.
Best home game: Of the ones I was at, I'm torn between Bath and London Irish. Irish saw us achieve Premiership safety and had an amazing atmosphere, but playing against a team full of stars and not having won all season, I'm going for Bath. A huge win (our first at home against the Bathplugs since 2003) that kickstarted our season.
Best away game: I didn't get to many this season, and Gloucester was pretty poor compared to the heartbreaks of the last two years. I'm plumping for Leicester in the league, just because we were in the game for so long and still could have got a losing bonus point in the end despite two yellow cards.
Worst game: It was a shock just how bad we were against Exeter at home. The later Saracens home thumping wasn't quite as bad, so the ineptitude of the Exeter game fortunately proved to be a freak.
Try of the season: For shock and comedy value, Nili Latu's first against Sale. A 13-man lineout with Simon Hammersley and JP Socino leading the charge. Love it.
Quote of the season: A few contenders here, I'll list them in reverse order:
3) BBC Sport website during the World Cup: "If Japan are minnows, then Namibia are plankton".
2) Mrs Leipy, talking about South Shields' finest David Wilson: "Wow he's a bit of a beast. He's like a safe; if he had a door you could store money in him!" (WTF?!)
1) A Vale of Lune supporter at Kendal, after the referee had taken a shoulder to the face from a charging player earlier on: "This referee's gone downhill since he got smacked in' gob!"
Biggest overreaction: The clock was on zero in our home game against Saracens (the sixth game of the Premiership season) with no chance of the Falcons winning, but we played on and Saracens broke to score a bonus-point try. A neutral fan came on this board to suggest we owed it to the other teams in the title race to restrict Saracens to just three tries and should have kicked for touch when the ball ran out. If only the Falcons really had so much influence on the title race!
Coincidence of the season: At the start of August 2015 I went to a wedding and chatted with someone I hadn't seen for probably 15 years. A few weeks later we ran into each other again at the Falcons v Georgia game too. Bizarre.
Biggest disappointment: Sinoti Sinoti's injury problems meaning he wasn't able to tear up the Premiership for a second successive season.
Best new signing: Although I chose Nili Latu as player of the season, for potential long-term impact I'd say Marcus Watson could be an even bigger star for us. It'll be interesting to see how we manage him, Sinoti, Veroniki Goneva and Zach Kibirige in 2016/17.