Book Review: Landing On My Feet (Mike Catt)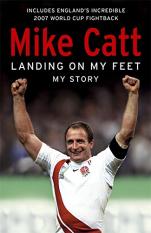 By Leipziger
August 16 2016
"Mike Catt was born in South Africa. How does he play for England?" "Same as he does for Bath: badly."
So the joke used to go in the late 1990s. I felt bad about that when I read in this book that Catt had suffered really badly under negative pressure from the media and Twickenham crowd in 1997. Fortunately he came through it and went on to make big contributions to England getting to two World Cup Finals, winning one.
A fellow Falcons fan gave me this book a couple of years ago but I've only just got around to reading it, but once I did I really enjoyed it. It is noticeable throughout the book how Catt matures from a carefree youngster just enjoying playing rugby in South Africa and then at Bath, into a fierce competitor and deep thinker. He becomes a very intelligent player who, during the 2007 World Cup, tried desperately to help Brian Ashton out with tactics even while, during the group stage, it appeared he was not going to get any game time at the tournament.
Catt's detailed accounts of the four World Cups he played in (1995, 1999, 2003 and 2007) also show how the game has evolved as tournaments became bigger and more glamorous. 2003 was a watershed in my eyes: going from the amateur (not a criticism, just a fact) event in 1995 and the haphazard, fractured 1999 competition to the well-organised and more professional World Cups we've seen since. The England team's organisation and professionalism has mirrored this, from boozy nights out in 1995 to Clive Woodward's meticulous preparation in 2003.
Meticulous was not a word to be used in 2007, when Catt explains that there was little analysis and tactical preparation until the knockout stages, but England still got to the final through guts, will and some good preparation for the semi-final against France.
Catt's account of the 2007 World Cup was quite interesting, not least for us Newcastle fans because the report on the England v Tonga game mentions Epi Taione, Jonny Wilkinson and Suka Hufanga in a single sentence – Falcons players past, present and future at the time. I imagine not many other rugby books include such a sentence.
Off the pitch, there is a tear-jerking account of how Catt's wife became seriously ill around the time of the birth of their daughter, and then their daughter became seriously ill just a few weeks after being born. This happened in 2002, in the midst of a period where Catt seems to mature into the more serious and thinking rugby player, perhaps because the sense of responsibility he finds in his personal life expands to the pitch too.
Other issues covered are Catt's pride in achieving his 50th England cap and captaining his adopted country in 2007, and leaving for London Irish after being offered an insulting contract by Bath.
I'd recommend this book to anyone looking for a quick, enjoyable read on rugby, and especially to anyone interested in how the game changed between the amateur and professional eras, from a player's point of view.
View a Printer Friendly version of this Story.
Book Review: Landing On My Feet (Mike Catt)
FalconsRugby.org.uk (IP Logged)
16/08/2016 19:18
What do you think? You can have your say by posting below.
If you do not already have an account
Click here to Register
.
Sorry, only registered users may post in this forum.