Gloucester Preview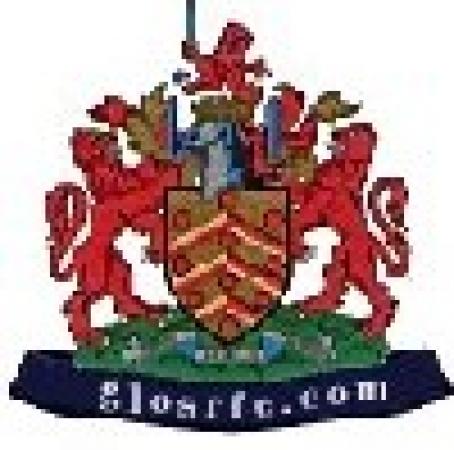 By Falconsfan 07
April 2 2017
Well all I can say is...Finally! Friday night rugby back at Kingston Park, it doesn't get any better. This Friday our lads will take on the Cherry & Whites as Newcastle look to make it back to back wins over Gloucester in the Premiership for the first time since the 2011-2012 season (5 years).
Newcastle & Gloucester have shown to be the 2 most inconsistent sides in the Premiership this season, the boys from the South-West haven't had back to back wins all season and have failed to produce the goods week on week, while Newcastle's longest winning streak is 2 games. Wins over Northampton and Harlequins, giving us our first back to back wins in the premiership in over a year.
Gloucester Centre Inside centre, Ryan Atkinson looks to get the ball away as he is tackled by Newcastle's Sonetane Takulua, Juan Pablo Socino looks on. Newcastle won the game 18-13 which was their first away win in the Premiership in over a year. And it isn't the first time in recent years that we have turned cherry & whites over at Castle Grim. Fond memories of winning there in 2012 as Mark Wilson burrowed over to seal a 29-20 win that could have kept us up...had Sam Vesty been more bothered about scoring his try vs Wasps instead of celebrating early at the Rec.
Why Newcastle need a win.
1. With only 1 win in their last 5 premiership games, Sale only 6 points behind with Worcester @ home next weekend, and Gloucester in 8th only 4 points ahead. This is a huge chance to get the season back on track and get some confidence back in the team in what has been a torrid couple of weeks seeing the Northeast outfit lose 3 premiership games on the trot and picking up no points and at risk of going on a losing streak of 4 games. We need to perform and get back in the mix for a 7th/8th place finish.
2. A reaction from the Harlequins game, Fair to say we didn't want to be at the Stoop last Saturday. There was no fight, no one worked for each other, amateur like defence falling off tackles and the set piece was poo. On the rugby pod, Goodey said he heard Deano was absolutely fuming at full time and went ''skitzo'' on the boys. Can't imagine that was a good sight. But the players will want to bounce back for him and us and show what we are actually about.
3. At risk of throwing the season away, We need points, If Sale who are @ home this weekend to Worcester get 4 points then they will be right on us, and we could risk ourselves falling into 10th place. I think it would be hugely disappointing if we finished all the way down there, but to be honest it sort of reflects us as a team right now, we are so frustrating to watch. We're working hard, getting into good positions and coughing the ball up. I'm fed up with it. We need to be more accurate! It's a tough league. If you don't take your chances you will lose.
Why Gloucester need a win.
1. Consistency, They will be looking to make it back to back wins for the first time this season after they thumped Bristol at Ashton Gate. They will want a strong finish to the season as the side looks to push for a Champions Cup spot for the first time in over 5 years.
2. Show that they aren't vulnerable,
Former head coach of Gloucester, Laurie Fisher, left the club only a few weeks ago after the side capitulated at home and gave up a firm lead to lose to Harlequins by 30 points to 27. Fisher tweeted after the game saying he doesn't know what to do and that fresh pair of eyes are needed at the club to solve the problems that lie ahead. I'm a bit bemused myself to be honest. It baffles my head that a club the size of Gloucester with it's fan base, funding and pedigree hasn't finished in the top 6 for the past 5 years...you only have to look at the names on their team sheet and wonder why they seem to lack leadership in seeing out games. Greig Laidlaw, Billy Twelvetrees, Richard Hibbard, Ross Moriarty, Matt Kvesic, Ben Morgan, Matt Scott, Mario Galaza, John Afoa, Charlie Sharples & Jonny May. All of these guys are tier 1 internationals with bundles of club experiance and they just can't seem to be able to see out games. They will want to show what they are about, it will be tough when coaches leave, because with a new acting head coach comes new culture, new structures and philosophies which can be quite hard to adapt to in the middle of a season. They've started well against Bristol, and now need to kick on.
3. Humphreys is under pressure, From the club board, the fans and the media, Gloucester Director of Rugby David Humphreys is under a huge amount of pressure to finish strong this season and to get his team performing consistently. If he shows an inability to get results and get a top half finish, he may be let go at the end of the season.
Newcastle's last 5 results:
26-24 LOSS AWAY @ SALE SHARKS IN PREMIERSHIP
46-31 WIN @ HOME TO NORTHAMPTON SAINTS IN PREMIERSHIP
36-14 LOSS AWAY @ EXETER CHIEFS IN PREMIERSHIP
35-27 LOSS @ HOME TO SARACENS IN PREMIERSHIP
53-17 LOSS AWAY TO HARLEQUINS IN PREMIERSHIP
1 OUT OF 5 WON, 6 POINTS FROM LAST 5 GAMES AND 181 POINTS CONCEDED.
Gloucester's last 5 results:
34-9 LOSS AWAY TO TIGERS IN PREMIERSHIP
31-23 WIN @ HOME TO SARACENS IN PREMIERSHIP
35-22 LOSS AWAY TO WASPS IN PREMIERSHIP
27-30 LOSS @ HOME TO HARLEQUINS IN PREMIERSHIP
14-32 WIN AWAY TO BRISTOL IN PREMIERSHIP
2 WINS OUT OF 5, 11 POINTS FROM LAST 5 GAMES AND 136 POINTS CONCEDED. (COULD BE A CRICKET SCORE THIS GAME)
Changes to be made:
Outside centre change. Chris Harris seemed to have a better day than Dom Waldouck did when he came on and showed his intent and effort with a cracking try saver. An academy lad who has just signed an extension showing he wants to be here should start in my opinion, so Chris Harris to start at 13.
A change at Fly-half. Neither Joel Hodgson nor Mike Delany fill me with confidence right now...so I hope Dave Walder has used these 2 weeks to bring local boy Craig Willis in to get him up to speed with everything. We have nothing to lose with how Joel and Mike in somewhat poor form, so Willis in for the start.
Scotsman in at No.8. I think Ally hogg will bring a good stability to the line-out, and if our scrum is going backwards should be able to control the ball very well with his classy foot balling skills and will bring a new dynamism to the back row. Also, great at taking the ball at restarts and will bring a wealth of leadership like Nili, scotsman to start for me.
A second row moving back to blind-side & a viking back in at second row. I'd move Mark Wilson back to 6 where he is best played, move Chick to the bench and start Olmsted at Second row who has been fantastic for us all season. The line-out didn't function at the weekend with balls going over heads, so a natural line-out operator in Olmsted might help.
A Saffa in at Hooker. More bulk please. I thought Scotty was quiet against Harlequins, so bring in the ever dynamic powerful hooker who will hopefully bring some much needed bulky weight and power in the scrum, I think Kyle, when fit is our best option @2.
A Westoe old boy in at Loosehead. Scrum went backwards against quins. Although Rob Vickers is great in the loose he takes some pasting in the scrum, so strengthen it up with a natural prop and hopefully that should steady the scrum... assuming Davey is not injured.
My Newcastle Falcons to face Gloucester rugby.
1. Davey Wilson
2. Kyle Cooper
3. Jon Welsh
4. Callum Green
5. Evan Olmsted
6. Mark Wilson
7. Will Welch
8. Ally Hogg
9. Sonetane Takulua
10. Craig Wills
11. Sinoti Sinoti
12. Juan Pablo Socino
13. Chris Harris
14. Niki Goneva
15. Alex Tait
16. Ben Sowrey
17. Ben Harris
18. Rob Vickers
19. Callum Chick
20. Nili Latu
21. Michael Young
22. Mike Delany
23. Beli Agulla or Marcus Watson
A Gloucester player to watch.
Open-side Flanker Jacob Rowan signed from Leeds Carnegie 2 years ago has established himself as a great back rower in the premiership over the past season and a half. He carries very well, makes a lot of tackles and is very athletic in the air. A busy player around the park and a bundle of energy. Goes about his work very well. Good player to watch, Newcastle will need to be wary of him at the breakdown.
View a Printer Friendly version of this Story.
Gloucester Preview
Discussion started by FalconsRugby.org.uk , 03/04/2017 00:16
FalconsRugby.org.uk
03/04/2017 00:16
What do you think? You can have your say by posting below.
If you do not already have an account
Click here to Register
.
As always an interesting read and a perspective I am sure we can all agree on.

I have just a minor quibble and that is on your front row selection. I don't have a problem with either of the props but I would switch them around because Jon Welsh has more experience at playing at loose head.
I agree re props. Davey is an out and out tighthead and Jon Welsh can play either side very well. Is the Hammer fit for a bench spot yet at 23? I thought he was near or am I mistaken. Otherwise I agree.
GeordieFalcon
03/04/2017 11:27
Regardless of the side...I want to see a huge passionate performance on Friday night!

Physical, aggressive and attacking.
Quote:

GeordieFalcon
Regardless of the side...I want to see a huge passionate performance on Friday night!
Agreed, from the team and from the supporters.
NorfolkFalcon
03/04/2017 13:06
Quote:

Mafia
I agree re props. Davey is an out and out tighthead and Jon Welsh can play either side very well. Is the Hammer fit for a bench spot yet at 23? I thought he was near or am I mistaken. Otherwise I agree.
I highly doubt we will see Hammersley in a Falcons shirt again until pre-season. He will have to undergo an extensive rehab programme and we only have four games left. I doubt the club will take any risks with him.
Looking forward to Friday night already. It would be nice to get that win to reignite the feel good factor again and avoid the end of season being a damp squib.
GeordieFalcon
03/04/2017 14:45
Yeah I agree about Hammersley. Not much point risking his recovery.

Though I did see a video the other week of Hammersley and the training he was doing suggested his knee is in good shape!.
falconsfan07
03/04/2017 18:03
Thanks for all the positive comments guys, I really appreciate it!

Aye KP should be quite noisy considering there hasn't been a prem game for so long so fans should be well up for it, and it's a Friday night which seems to bring out the best in us....

The boys will obviously want to bounce back after the dissapointing Quins game, even if we don't win all I want to see is effort, commitment and passion and I'll be ok with that, a win would be superb like...



Edited 1 time(s). Last edit at 2017:04:03:19:40:16 by falconsfan07.
falconsfan07
04/04/2017 14:11
Apologies for one error, The glos centre is called Mark Atkinson! Silly me...

Glos will be a tough game, they opened up a dangerous Cardiff side at the weekend and tore them to shreds in the last 30. We need to contain the likes of May and sharples and purdy off the bench, twelvetrees looked good, but can he do it consistently. That's always been his issue. Could be in for an absolute try fest with both teams chucking the ball right across the pitch.



Edited 1 time(s). Last edit at 2017:04:04:14:16:49 by falconsfan07.
falconsfan07
04/04/2017 21:22
Quote:

Severus

Who the hell is Ryan Atkinson? Do you mean Mark?
Haha my apologies, least I got his last name right!
Sorry, only registered users may post in this forum.