Worcester Preview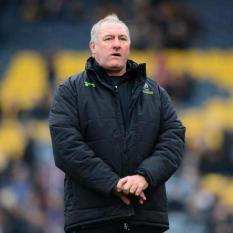 By Falconsfan07
April 25 2017
Well here it is. The last home game of the season, I look forward to welcoming the Warriors fans to Kingston Park, and hopefully can find a couple to chat with during the game this Friday. Funnily enough, the Warriors are now the only Premiership team that I haven't seen play so I am looking forward to a close encounter....
....(and one that hopefully can see us end our 4 match losing streak against Worcester) and see us kick on for a 7th placed finish...I am not too confident though.
The man who almost kept Newcastle in the Premiership...
The late arrival of Gary Gold as a Director of Rugby at Worcester has been something of a revelation for Worcester. Before The South African arrived, the Warriors laid 12th in the Aviva Premiership and had just lost to Bristol, who looked like they could survive, but since then, Worcester have picked up 17 points in their last 7 Premiership matches, including big wins over Bath and a thumping victory over Bristol Rugby, who are now relegated.
Why Newcastle need the win.

1. For a strong finish to the season. After the capitulating away defeats against the Tigers & Harlequins and a somewhat inaccurate performance against Gloucester in which we still managed to win somehow...I think we need a really strong cohesive team performance to finish the season on a high and set the platform for next season, and no better way to do it than against our worst bogey team ey! Newcastle haven't beaten Worcester since 2013 in the season that the South West club where relegated, but after 18 defeats on the trot for the Warriors, they managed to get a much needed win against the Falcons at KP. Results against Worcester have never been good since then, two poor performances against them last Season and an absolute horror show of errors at Sixways in round 6 of this season has seen the Warriors become a Falcons bogey team. We never play well against them, we are always on the back foot against them and never seem to be able to string any phases together or consistently go forward, they are never really good encounters.

Highlights (lowlights?) of the 4 defeats-

youtube.com 2013/14

youtube.com 2015/16

youtube.com 2015/16
The lowdown on Worcester:
The departure of Dean Ryan just before the Premiership season began had devastating effects on the Warriors. Carl Hogg was under immense pressure to get his team performing. Warriors looked lost defensively and were leaking an awful lot of tries. Their line-out was a mess, they had a lot of influential players out like Francois Hougaard, Ben T'eo who was away on international duty, but most of all, the club had no culture and the feeling around the place was the players didn't want to play for the club. The team wasn't bonded and it looked as if no one wanted to be in the fight.

Articles like this didn't help their causes either... Mailonline - Ben Teo

The arrival of Gary Gold has been a revelation for the club, he has brought a culture, and a work ethic that has made the players fight and scrap for everything. Shrewd signings have been made in the shape of Flanker Chris Vui and hooker Joe Taufete'e. Both Islanders have contributed massively to the Worcester revival with their expansive running games. Combine that with the return of Hougaard who loves playing at a quick pace, the inclusion of academy players like Perry Humphreys and Josh Adams who are deadly when given a sniff of space, then you have a very dangerous team that if it has quick ball will cut you to pieces, they have great distributors in Olivier and T'eo and a lot of strike runners across the back line so Newcastle will have to be on the money.

Worcester have solid professionals all over the park, one player at the centre of this revival has just signed a new contract with the club.
While Gold has simplified the Warriors game plan and made the team a much more dangerous attacking unit, he has also named a new Captain in Munster legend Donnacha O' Callaghan, the Irish legend has brought a calm steadiness to a team in panic. He says the right things at the right time and he leads by example. There is no one better than a player with his wealth of experience to lead the club.

WORCESTER'S LAST 5 RESULTS.

24-14 LOSS AWAY TO NORTHAMPTON SAINTS IN PREMIERSHIP

41-24 WIN @ HOME TO BRISTOL IN PREMIERSHIP

40-33 LOSS AWAY TO WASPS IN PREMIERSHIP

36-26 LOSS AWAY TO SALE SHARKS IN PREMIERSHIP

25-19 WIN @ HOME TO BATH IN PREMIERSHIP

2 WINS OUT OF 5, 139 POINTS SCORED, 143 POINTS CONCEDED.

NEWCASTLE'S LAST 5 RESULTS.

36-14 LOSS AWAY TO EXETER IN PREMIERSHIP

27-35 LOSS @ HOME TO SARACENS IN PREMIERSHIP

53-17 LOSS AWAY TO HARLEQUINS IN PREMIERSHIP

16-14 WIN @ HOME TO GLOUCESTER IN PREMIERSHIP

30-3 LOSS AWAY TO LEICESTER IN PREMIERSHIP

1 WIN IN LAST 5, 77 POINTS SCORED, 168 POINTS CONCEDED. 4 POINTS


Who should be favourites?
Worcester should be, in my humble opinion. Worcester are a good side, they are playing the much more attractive, dangerous or expansive rugby, they have a pack that can give them quick ball around the field from set piece, they bring defenses in with Hougaard's sniping play, then put their dangerous runners like Olivier, Humphreys, Pennell & Adams in space. They have very mobile/powerful props in Schonert & Ruskin and a very abrasive hard working back row who have a wide range of skills, hard hitting Potgeiter, All round ball player with Sam Lewis and the ever effective hard carrying Samoan bulldozer Fa'asoliva makes up for a quality back row and one that could be an absolute nightmare to us if they are on the front foot this Friday night.

The pack really needs a big performance this Friday, no excuses they just need to perform. Whoever is at 2 needs to get his arrows right, the second rows need to make the right decisions of where the ball is going to be thrown, and the front row needs to cope with Schonert/Bower and Ruskin, if we're going back, then Wilson and Welch will be ineffective, we will have no quick ball to play with and it will be a long old night for us.

Warriors player to watch.
Highly rated by Director of Rugby Gary Gold, hard-working hooker Taufet'ee has been a shrewd signing for Warriors. His barnstorming carries in the loose and effective offloading game, combined with his hard working defensive shifts have made him a fan favorite with the Warriors faithful. The USA international of Samoan descent is a bundle of energy around the park, and a powerful scrummager and player with ball in hand. A top player to keep an eye out for.