Sunday 16 March 2003, Newcastle Falcons 24 - 22 Leicester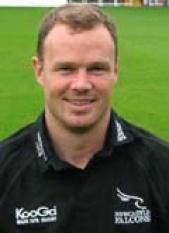 One of the Falcons best
By Aidan Berry
October 16 2017
Kingston Park, Newcastle, Attendance 9105 Referee AJ Spreadbury Newcastle Falcons Tries Noon, Stephenson Cons Wilkinson Pens Wilkinson 3 Drops Wilkinson Leicester Tigers Tries Booth, West 2 Cons Booth, McMullen Pens Booth Drops none
Newcastle Team Leicester Team
15 FB Joe Shaw Steve Booth
14 W Tom May Leon Lloyd
13 C Jamie Noon Ollie Smith
12 C Mark Mayerhofler Rod Kafer
11 W Michael Stephenson Freddie Tuilagi
10 FH Jonny Wilkinson (c) Craig McMullen
9 SH James Grindal Tom Tierney
1 P Ian Peel Perry Freshwater
2 H Nick Makin Dorian West
3 P Marius Hurter Franck Tournaire
4 L Mark Andrews Martin Johnson (c)
5 L Stuart Grimes Louis Deacon
6 F Epi Taione Martin Corry
7 F Andrew Mower Josh Kronfeld
8 N8 Hugh Vyvyan Adam Balding
Replacements
16 Hall Charlton Graham Rowntree
17 Gareth Maclure Neil Back
18 Phil Godman Darren Garforth
19 Micky Ward Ben Kay
20 Craig Hamilton Jamie Hamilton
21 Phil Dowson Glenn Gelderbloom
22 Matt Thompson Sam Vesty
As we build up to the next league home game I thought I'd throw us back to 2003, pre world cup and have a look at the sides
The standouts in the Falcons team that day. May, Noon, Mayerhofler, Wilkinson, Stephenson and the excellent and under rated Joe Shaw. So essentially our whole backline plus Peel, Andrews, Grimes, Taoine and Mower. Sorry Hugh Vyvyan but I don't think I ever saw you do anything of note. Our bench had some class in it with Charltonm Godman, Ward and Dowson.
Now get a look at that Leicester team, a Rolls Royce of a team with the half backs being the lesser lights in their back line and then a bench of superb quality. If people said playing Sarries recently was like playing The Lions, then this Leicester line-up fits that mold also.
So what happened?
We only went and beat them with Tries from Noon, Stephenson. Have a look at who dropped a goal that day also.
As usual the best thug in the world that day had a cracker of a game but our own Mark Andrews proved his with against the Ferengi (Martin Johnson) and a monumental tussle saw the Falcons come out on top. But being outshone by these big names was acertain Stuart Grimes who was an excellent player.
Now does anyone remember what Kronfeld did that day because I vaguely remember feeling less than whelmed at his performance?
More Newcastle Falcons headlines
Newcastle Falcons Poll