The White Knight Returns - Worcester 9 Falcons 30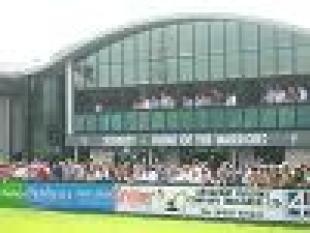 By Leipziger
April 6 2005
A good win for our boys, 30-9 against the Premiershipís newest team to allow us to start the season on a high.
A stressful start to the season was had today, as Worcester made their Premiership debut against our Falcons at a sold-out Sixways. After meeting Mark H in Birmingham and getting a train to Worcester, the first hint of the dayís transport problems weíd later encounter came when Lucy2ís train to Worcester was cancelled and she had to get a later one.
Sixways is a very typical rugby stadium, and after meeting some other Falcons we headed straight to the bar as it was only 1.30pm. Unfortunately because of the sweltering heat (packed into the North Stand like sardines) I had to be a sap and have some water as well as beer.
There were no changes to our announced lineup, with us giving debuts to Mike McCarthy, Luke Gross and Colin Charvis, as well as Jonny Wilkinson playing his 100th Premiership match. Ben Gollings was on the wing for Worcester.
The match began badly for us as James Brown scored two penalties for Worcester. Wilkinson also had two kicks soon after, scoring one but hitting the bar with the other (to chants of "Who are ya?" from the home fans), but we eventually took the lead. Some excellent ball handling between our boys allowed Michael Stephenson to set up McCarthy and as Worcester ran out of tacklers MMC crossed for the opening score. Wilkinsonís conversion and two more penalties gave us a comfortable 16-6 half time lead. Welsh lock Craig Gillies did go over for Worcester but the try was disallowed.
At the break we replaced Matt Thompson and Marius Hurter with Andy Long and Micky Ward, but the lineout didnít improve any, and Worcester also cut our advantage with another penalty from substitute Tommy Hayes. Although the hosts dominated most of the second half, our defence held firm, Stephenson in particular making some excellent tackles to go with his cutting forward play. Our victory was finally confirmed with converted tries from Mark Mayerhofler and Stuart Grimes, and though we tried for a fourth score and a bonus point, we were made to settle for a satisfactory 30-9 win, putting us 2nd in the league for the first time since November 2001!
Should we have expected a bigger victory? On paper perhaps, but Worcester defended very well (the odd high tackle or six notwithstanding!) and also attacked with vigour, though our defence never looked in danger of cracking. A clean sheet try-wise was good for us, and as I said, while this result doesnít make us world beaters, we have now only lost once in four away league games, quite a run by our standards, and can go to Bath with an open mind.
It was brilliant to see Jonny back playing competitively for Newcastle. He didnít have an outstanding match in my view, but did little wrong, missing only two of eight kicks and tackling well. Again it was the consistent performers such as Stevo and Mayerhofler who shone brightest, as well as both El Charva and Dowson.
Question of the day - can Worcester stay up? They played well, but couldnít break down a defence well-known for missing tackles. If our defence has improved that much, then Worcester will find it tough. Their kicking was also less than proficient. I would say Worcesterís chances depend on Leeds and London Irish, and it could be quite a scrap.
Post-match, Mark, Lucy and I made for a bus after running into the Monkeys, but couldnít get one until 6.10pm. This resulted in missing our train to Birmingham, but allowed us some good Northern fish and chips for tea. We got a train at 7.25, but that was held up for 15 minutes in Kidderminster because some idiots pressed the emergency door opening button. Police greeted us on arrival into Birmingham, but Iím not sure what happened next. (Mark's note - it transpires that the idiots managed to smash the glass in one of the doors).
Anyway, we all went to find our own transport home, and another Premiership weekend was over. Roll on Barth now!