Shrek's Twenty Matches - Part Three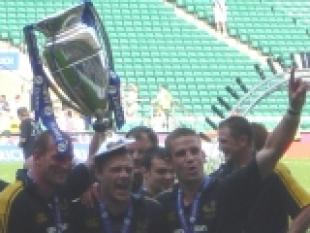 Maybe sooner?
By Shrek
July 16 2012
Getting closer to the current day, this next section of Shrek's 20 favourites brings us up to the end of the 2006/7 season. Game 15 is one of my all time favourite Wasps matches, A certain number of Leicester players were looking to finish their careers in style with a Heineken Cup Winners medal. Nuff said.
11) Wasps v Leicester, 4th March 2006
The 2005/06 season was very much a transitional season for Wasps. Gatland was replaced by Ian McGeechan and Tony Hanks replaced by the relatively unknown Leon Holden. On the pitch there were big changes, especially in the front row: Will Green and Trevor Leota moved on whilst Craig Dowd and Phil Greening retired. In their place came Peter Bracken, Jon Dawson, Joe Ward, and most notably, Raphael Ibanez.
The Heineken Cup campaign in the 2005/06 started badly and didn't improve. A shock defeat by a point at Murrayfield was followed by a 15-15 draw against Toulouse, leaving Wasps with it all to do. A defeat at Stradey Park all but ended Wasps European hopes for the year, although the side responded against the Scarlets in emphatic fashion a week later. Europe ended with a gallant defeat in Toulouse and a comfortable win over Edinburgh.
The Powergen Cup however proved to be a much happier tournament for the Men in Black and Gold. A hard fought win at the Madejski over London Irish was followed with a comfortable home win v Cardiff. Saracens were put to the sword a few weeks later to ensure Wasps progressed to the knockout stages unbeaten. The tournament was featured on the BBC and struggled to capture the public's attention so some eyebrows were raised when Wasps drew Leicester in the semi-finals, held as a double header at the Millennium Stadium.
Wasps were hit by the late withdrawal of Mark van Gisbergen, which meant that Tom Voyce was switched to full back, Ayoola Erinle came on to the wing and Jeremy Staunton took over the goal kicking duties, showing no nerves as he put Wasps 9-0 up on the half hour mark, before Tom Varndell got Leicester on the board. Staunton added another three points before Leon Lloyd replied after the break to make the score Wasps12 Leicester 10. it took a heroic defence from Wasps to stop Leicester scoring, aided by another three pointer from Staunton, before Wasps did what they do best.
Pressure on Andy Goode forced a mistake by Leicester. Raphael Ibanez scooped the ball up and passed to Erinle who cut through the scrambled Tigers defence and ran in from 80 meters to book Wasps place in the final. Leicester did pull the score back, but the game was best summed up by the following quote from Ian McGeehan's post match press conference:
"I can only quote Rafael Ibanez who said: 'Now I can understand what it is to be Wasp.' And I concur. It's a great feeling."
As I stood outside the Millennium Stadium, on what was my Birthday weekend, I couldn't help but agree. Wasps would go on to record a 26-10 win over the Scarlets in the final.
12) Gloucester v Wasps, 6th May 2006
The 2005/06 League campaign started well, with Wasps leading the way to begin with, before injuries and a lack of depth saw their challenge fall away. A breath-taking defeat at home to London Irish (56-37) saw Wasps heading to Gloucester needing a win to make the play-offs. What followed was one of the most open and exciting Premiership matches ever played.
A dominant display in the first half saw Wasps lead 20-8 at the break after tries by Mark van Gisbergen and Joe Worsley cancel out an early Anthony Allen try. At the break Gloucester made a couple of changes, bringing on James Bailey for Mike Tindal and Haydn Thomas for ex-Wasp Peter Richards.
Those changes sparked Gloucester in to life and within four minutes of the break they had turned a 12 point deficit into a two point lead. Worse was to follow fifteen minutes later when, after a Gloucester penalty, Wasps coughed up the ball, Ryan Lamb passed out wide to James Simpson-Daniel, who spent the next 50 meters running rings around Lawrence Dallaglio, before passing to James Bailey to run in a score that put the hosts in total control, leading 32-20.
Wasps regrouped and followed up a MVG penalty with a well worked try for Paul Sackey, before launching another try that saw Joe Worsley sprint in under the posts right in front of me as I was surrounded by Gloucester fans. A very enjoyable moment!
Wasps held on to record a 37-32 victory that booked their place in the playoffs. Sadly they surrendered their grip on the league title at Edgeley Park the following weekend in Sale's route to the title.
13) Castres v Wasps, 20th January 2007
The irony of an easier draw in Europe given this was the first season in three that Wasps were no England's top seed was not lost on any DW. Not that any complained either… Treviso, Perpignan and Castres made up a dream pool for the travelling Wasp.
A home win in the rain against Castres was followed by the total opposite a week later in Perpignan, where the temperatures hit mid-20s at midnight, and the team slipped to an agonising defeat. Comprehensive victories home and away against the Italians put Wasps in control of the group; however Castres were not far behind. Wasps went to France needing to avoid an eight point or more defeat to progress, with an outside shot of getting a home quarter final if they won and other results went their way.
An early indication of what was to follow came the night before the match when Gloucester brilliantly upset Leinster. That meant that the equation was simple: win and you're at home. Lose and do it the hard way.
Castres were certainly keen to make Wasps work for the win. A tense first half saw Wasps take the advantage thanks to an Alex King drop goal, added to two penalties a piece. After the break Wasps got a lucky bounce and Tom Voyce was able to sprint in from half way to give Wasps a ten point lead. Castres regrouped and responded with a try of their own 10 minutes later to make the score 16-13. It then got VERY tense.
Castres battered away at the Wasps defence, whilst Wasps messed up two golden opportunities to put the result beyond doubt. Dallaglio and Dan Leo then held up a Castres player over the line and somehow Wasps held on to secure an away win, in a season where they only one away from home once in the league (twice if you include the London Double Header).
Leicester then upset the odds to win at Thomond Park meaning Wasps had a home tie to follow against Leinster.
14) Wasps v Leinster 31st, March 2007
Even without Brian O'Driscoll Leinster were expected to be a tough ask for an underperforming Wasps side. The league campaign had been disappointing, but this Wasps team were not going to go quietly into the night.
Wasps took an early lead, before wonderful bit of obstruction from referee Nigel Owens allowed Chris Whitaker to put Leinster 7-6 up. Wasps reclaimed the lead on 32 minutes when a big hit by Fraser Waters on Jamie Heaslip allowed Eoin Reddan to scoop up the ball and race in from 65 meters. Wasps then lost their two main leaders with Alex King going off with a cut and Lawrence Dallaglio getting sin binned just before the break. Half time – Wasps 13 Leinster 10.
If Leinster thought their one man advantage would give them the edge they were very much mistaken. James Haskell, a half time replacement came on and instantly made an impact, scoring almost immediately with a burst over the line from good forward play. His impact increased when he combined with Simon Shaw to send in Danny Cipriani for another try in the corner, before Wasps returned to their full compliment.
Wasps dug in to defend their 25-10 lead. Dom Waldouck's valiant but illegal defence saw him sin binned and Contepomi made it 25-13 with the following penalty. But once again, Wasps struck with a man down. Alex King's third penalty was followed when Tom Rees secured a superb turnover, before James Haskell broke, tying in the Leinster defence before passing clear to Reddan who had an easy run in for his second. Wasps held on to secure a second semi-final in four seasons.
15) Leicester v Wasps, 20th May 2007
Many expected that semi-final to be in San Sebastian against Biarritz. Some Wasps fans even booked trips to Spain before the Biarritz game took place. All plans to head south ended when somehow Northampton, bottom of the Premiership pulled off an astonishing win in the rain to secure a 7-6 win, meaning Wasps fans were faced with an even more glamorous trip to… Coventry.
What Coventry lacked in glamour, it made up for in terms of the result: Wasps 30 Northampton 13, although it was a lot closer than the score line suggested. The following week Wasps went up to Leicester with an outside shot of making the play offs, but were soundly beaten. One factor that hadn't helped Wasps was an injury to Tim Payne that meant Phil Vickery was switched to loose-head and Peter Bracken played at tight-head. The Welford Road experience had shown the need for a plan B for Wasps, although nobody seemed to have much of an idea what their plan B could be.
Wasps also faced a challenge in filling the gap caused by their failure to make the playoffs, leaving a three week gap between matches. They had hoped to play Bath who faced a similar situation in a friendly, but Bath weren't so willing. With the A team having won the A-League title at Welford Road, the Wasps management decided to have a first team v second team game at Henley.
Little is known about quite what happened during the game except for the following:
1) The A team won the match with a last minute try.
2) Tom French, who had spent most of the season on loan at Henley and only played once for the first team in an EDF Cup dead rubber against Saracens, had a stormer.
After words of encouragement from Rafa and Vickery, the Wasps management decided to take one of two major gambles and start the unknown prop in the final.
The second gamble first came to light to a very small number of people at Welford Road. Leon Holden had noticed that the Leicester props were copying the Wasps props whenever Wasps had a line out. In the second half Wasps tested this, with their front rowers moving about during lineouts. The Leicester props copied them. Leicester certainly didn't pick up on this.
The game kicked off with Josh Lewsey laying down a marker with a massive hit on Leicester scrum half Frank Murphy. With no replacement scrum half on the bench Shaun Edwards (who spent most of the game reading a book), had refuted suggestions in a TV interview before the game that Wasps would target Murphy. It only emerged during a pre-match interview with Josh before the Gloucester game last season that Shaun had said if you get the chance to go for it.
With a more solid platform; French was able to use his lack of height to get under Julian White and cause the hugely experience prop all sorts of difficulty, Wasps were in the game and with the scores at 3-3, they pulled their second trump card of the day. With a lineout on the 22, the Wasps lineout headed backwards, creating a large gap. Eoin Reddan quickly joined the line and Rafa threw him the ball. Before Leicester knew what had happened, the Irishman was away and headed for Howley's corner. Wasps 8 Leicester 3.
Leicester responded with a penalty before Wasps struck again. The whole lineout again moved backwards, apart from Simon Shaw who ran round to the front, collected the short through from Rafa, before sucking in the last bewildered Tiger's defender, then passing to the Frenchman who scored. Another Andy Goode penalty followed before the break.
The second half started with two penalties from King, before Wasps played their second trump card again. That move is credited with leading to the two tries, but I feel it added a further drop goal after 54 minutes. Leicester knew they had to do something at half time and responded by flooding the corner area and standing their ground at an early second half lineout, five meters from the Leicester line. Instead Rafa through long and the Wasps forwards set up a simple drop goal.
Andy Goode meanwhile was constantly distracted by a pork-pie eating Wasps fan behind the post missing kicks at goal. The Wasps defence held firm and when Wasps won a scrum against the head, James Haskell burst down field, before securing a penalty. Alex King kicked the point and left the field, bringing his Wasps career to a wonderful end. Leicester had nothing left. The trophy belonged to Wasps, and Shaun Edwards even put his book down long enough to smile, something I quickly took a picture of to prove it did happen!