Jacobs Retires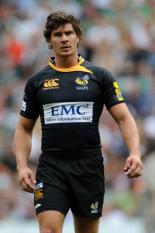 Ben Jacobs, Wasps
By Klinks
May 26 2016
Wasps today confirm that Australian centre Ben Jacobs will retire from profressional rugby after a memorable career spanning fourteen years.
The laid-back Aussie has become one of the most respected and popular members of the squad during his two spells with the club.
After six years with NSW Waratahs, Jacobs spent a season with Saracens before heading to Wasps in 2009, where he made a formidable impact in black and gold racking up 57 appearances during his first two seasons.
In 2011, he moved to Japanese side Kyuden Voltex for two seasons before migrating back to Australia to join Western Force.
The experienced centre returned to Wasps at the start of the 2013/14 season, where his calm authority and consistency in taking the right option proved hugely beneficial to the developing young side.
This season, Jacobs again played a significant role in Wasps' success, providing a reassuring presence in midfield with his strong organizational skills and ability to create opportunities for those around him.
The 34-year-old, who has recently become a father for the first time, plans to stay in England and explore coaching opportunities.
Wasps' Director of Rugby Dai Young said: "I'd like to wish Ben and his family all the best as he moves on from rugby. Ben has been a key figure within Wasps' squad during his two stints with the club and, as a senior member of the team, he has been a great influence within this group on and off the field. Ben has made a big contribution to Wasps over the past few seasons as we've worked our way up the table and we wish him the very best for the future."
Looking back on his career and time with Wasps, Jacobs said: "I have been very fortunate and grateful to play a game I have loved for 14 years. I always dreamed of playing rugby as a young boy and for me, this dream came true.
"I would like to thank, from the bottom of my heart, everyone who has helped, encouraged and guided me through my career. I couldn't have done any of this without you. Thank you to NSW Waratahs, Saracens, Kyuden Voltex, Western Force and Wasps for believing in me.
"I have had a great time at Wasps and have made many lifelong friends. I feel like it is my home away from home and although I am sad to leave, I feel now is the right time. To all those supporters who welcomed me, I say thank you. I will now be focusing on the next chapter of my life, which I'm very excited about especially with the arrival of our first baby boy Kobe. I look forward to watching Wasps continue their resurgence next year and wish the team the best of luck for the future.
"I would also like to thank Bob Dwyer who signed me to my first professional contract, Ewen McKenzie for giving me my first cap as a Waratah, Eddie Jones for bringing me over to Europe, Tony Hanks and Shaun Edwards for convincing me to sign with Wasps and Dai Young in bringing me back to Wasps. You all have impacted my career and life in such a good way, so thank you.
"A special mention goes to my second family, the Batchelors, who have been amazing and supported me here in the UK. Mum, dad and my two brothers, words can't describe how much you have done and sacrificed, it means the world to me, and finally to my beautiful wife, you are simple stunning and I can't wait for the future with you."