Shaun in Defensive Mode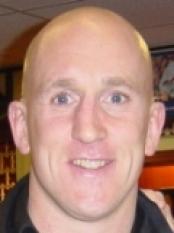 NOT FOR RFU'S EYES
By Barney Burnham
April 6 2006
England's dismal Six Nations campaign has sparked lengthy and heated debate about the current state of English rugby, and where exactly it's going. Shaun Edwards might offer an alternative direction.
There have been many calls for a change in the coaching set-up, with defensive coach Phil Larder among those attracting particular criticism. One name being widely touted as a possible replacement is that of Shaun Edwards, mastermind of the Wasps blitz, or rush, defence.

The former Rugby League superstar is on record as saying that he'd be happy to enter the England set-up, but only on a part-time basis.

He's been telling Barney Burnham about the origins of his defensive system, which has played a prominent part in Wasps' recent successes.

****

BB: When you arrived at Wasps, back in the autumn of 2001, I presume you had an open mind about all aspects of a code which was mainly new to you. How long did it take you to decide that rush defence was going to be the most effective way ahead?

SE: To be honest, I wasn't doing that much coaching. I was more involved with training, and I was taking part in a lot of training sessions. I thought that it was feasible to rush up quickly and put a lot of pressure on the opposition, and I found that it also worked pretty well. Having come from rugby league, where you had to be ten yards back, I reckoned that one yard back isn't that far. I sensed that players with sufficient speed could get up there and really pressurise the opposition. Because of my inexperience as a coach, and also because of a slight lack of confidence, I didn't really push it. It was obviously a very radical move, and we were operating a normal up and out defence at the time.

Then Warren (Gatland) came along, and he was very keen. He'd tried this kind of rush defence with a couple of his sides in Ireland. Between us, coming up with different drills and different calls, we came up with what we do now, which has become known as a blitz defence.

BB: How much has it changed since you first introduced it? Presumably, you have to keep tinkering with it, to stay one step ahead of the opposition.

SE: Yes, but not that much. You just get better and better at the fundamentals of it. That's the main thing. You don't reinvent the wheel. If something's working for you, just keep doing it. It hasn't always worked. It's very difficult for the less experienced players to do. In a slide defence, if you can tackle you're basically a good defender. With rush or blitz defence, you're continually having to make split-second decisions, thinking on the run. You have to have a lot of defensive vision.

BB: Who is the most important person in it, if there is a single most important person?

SE: Me! (laughing). Joking apart, probably the number 12 - but it's also very difficult for the wingers to do.

BB: If you were put in charge of a team who'd only ever used drift defence and had to switch them to using blitz, how long - assuming that they're top quality players - do you think it would take for them to operate the new system effectively?

SE: You'd have a few teething problems along the way. It depends how much commitment the players have to it. If they completely buy into it, and you have a bit of early success to encourage them, I'm sure that - with repeated drilling and the right fault correction - they'd get there in the end.

BB: It seems that other parts of the world are taking it up. South Africa used it very successfully against the All Blacks last year, and most Super 14 sides now seem to be using it.

SE: To be fair to South Africa, I think they probably did it before anybody else. I remember the 1995 World Cup., when I was still a Rugby League Player. I was completely amazed to see England using a slide defence against someone like Jonah Lomu and the standard of backs the All Blacks had. I thought it made much more sense to rush up and try to cut Jonah's supply off. Prevent him getting the ball in the first place, rather than just giving him the outside, then getting trampled on by a superior athlete.

BB: If someone at Twickenham were to say to you "Look, all the teams in the Premiership need to use the same method, so that players don't get confused when they join up with England. We want Wasps to revert to drift defence." what would your response be?

SE: I'd say "Well, you tell the players, because I'm not going to. I'd have a mutiny on my hands!"

BB: Do you think drift has gone as far as it can, for England?

SE: That's a difficult question to answer, because drift defence is successful. England had the best defence in the last World Cup. The All Blacks use a drift defence, even though they're a lot more aggressive than England are. Australia used a drift defence in '99, and they won the World Cup because of it. South Africa used the blitz in '95, and they won the World Cup because of that. It's no secret that the team with the best defence usually wins the World Cup.

I also think that, when you're playing against a multi-talented team like the All Blacks, you sometimes have to take risks. The only team to have beaten New Zealand in the past two years is South Africa, who use a rush defence. Obviously, they were excellent in other areas - like scrums and lineouts - but I think their defence was the primary reason why they won those games., and gave the All Blacks so much trouble. Against slide defence, the All Blacks are undefeated at the moment.