The LISC Craic team hits Toulouse.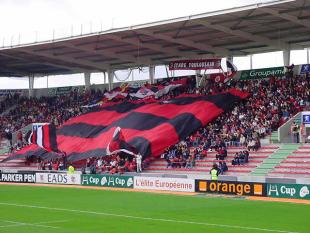 Now that's a flag
By BrianC
October 13 2002
The second weekend of October saw our much anticipated away trip to Toulouse. The LISC Craic team travelled in unheard of numbers to paint the town green.
World Tour of Toulouse - Craic Report
Donaghadee has been commissioned to write a report on the Toulouse game itself. This is one persons report on the events in and around the weekend. Yet again it was a fantastic weekend, the LISC Craic Team were well and truly on song.
It is difficult to judge how many of us were there, the estimates I heard over the weekend varied from two to five hundred. Realistically we probably numbered around three hundred, by far the largest overseas gathering we have ever managed. This time last year at Vallodolid we had about fifty travelling. Even allowing for the fact that this was the HC rather than the PPS the growth in travelling numbers is phenomenal.
Given the numbers in Toulouse we were somewhat more fragmented than is my memory from earlier tours. As such what I report here may well differ widely from the experiences of others who were on the tour. This is by it's very nature a personal report.
Most of the usual suspects gathered during the day on Friday. When I arrived at 3p.m. the session was well underway. In fact as I was checking in a pint was brought to me at the reception counter. Now that's what I call good service.
A group of us headed out to the FNAC shop to collect the match tickets then on to the Stade Toulousain shop. This is the sort of merchandising outlet our own club should aspire to. The shop was in a prime position in the town center, about twice the size of the megastore and full to the brim with a very wide selection of merchandise. As well as the clothing ranges there were items such as Stade rugby balls, umbrellas and back packs. We were all impressed.
Early evening we gathered in Mulligans for the WTOT photo call. They were ready for us in no uncertain terms, extra staff, extra AG and they had even commissioned a couple of large banners to welcome us into town. I ducked out at about 8 to go in search of some food, and have an early night. As I understand it for those who stayed it turned into a rather long night. Someone mentioned a 3.30 finish, I just don't have that kind of stamina any more.
On Saturday morning we heard about the Toulouse four. We still don't know who they are, perhaps one of them will let himself be known on the board. Apparently these guys had a rather long session on Friday. When it came to kicking out time they had forgotten the name of the hotel they were booked into. Rather than kicking them out into town the patron let them sleep in his bar. Whoever the Toulouse four are they certainly took their tour duties very seriously.
That morning I visited the market at place Victor Hugo. If you ever do visit Toulouse I suggest you do the same. It's a fascinating place and brings home to you just how much the French are into their food. There were so many things you just would not see in a market in Britain, mind you I'm not sure how popular pork testicles would be in the UK.
The good people of Toulouse are very much into rugby and were incredibly friendly. Wherever we went all morning people were wishing us good luck for the game. It was quite a job to keep hold of my shirt, such was the number of people who wanted to swap.
A party of about fourty or so gathered at the Place du Capitol late morning. A dozen of us broke away from this such was our desire to have a long, boozy French lunch before the game. A couple of us were by this time bewigged, we thoroughly enjoyed the smiles and waves as we walked through the streets and into the restaurant.
The award for the most spectacular arrival at the stadium goes to a group including JoeV, Chris (Two Dinners) and Murph (Hollow Legs). They flagged down a police van, drove through town blue flashing lights, siren and all, were delivered to the stadium and paid their fare in liquid format.
Just outside the stadium there were a number of catering stalls where we gathered. Again one could only dream of such delights at the Madstad. I was tempted by the merguez sausage sandwiches and the duck breast kebabs (both on sale at £2) but having had such a good lunch I passed on this opportunity.
Inside the stadium was an experience. The Stade fans know how to make themselves known. There were two separate rows of drummers, about ten drums in total. They had a few huge flags including one that when opened covered pretty well the whole South stand. There were balloons, horns, lots of ticker tape, one man even had a siren. We were all thoroughly impressed, so much so that Reading Fatboy was later muttering 'I want a drum'.
On both the journey to and from the stadium we had sing songs. On the return trip, whilst we were in full voice with the Fields a girl got on the phone to her friend. The conversation we heard went something like 'I'm on the bus, listen to this, it's f***ing fantastic. No no I'm not in the pub, honestly I'm on a bus'. This was the cue for us to change the song to 'The wheels on the bus'. I don't think the locals who were on that bus will forget us in a hurry.
Saturday night, another restaurant on the Place du Capitol. Most of the team arrived at about 9pm. I had a little chat with Strudders, he was annoyed that we hadn't won having believed that we should have taken them. Having played well was simply not good enough for him.
I made it back to Mulligans later that night but liver fatigue was setting in. When I left there at midnight the joint was jumping, I suspect it was one of several places in town that was.
It was good to see so many familiar faces and again to put faces to names I hadn't seen before, Baz, Annie, Mutts Nuts and Joe2002 are the ones I can remember.
All in all it was a craicing trip, I really do hope we qualify out of our pool as I'd love the chance to make another similar trip in Spring.