Mulled Wine Marie's Mulled Wine Recipe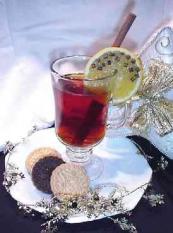 That Time of Year
By MulleWineMarie
April 12 2004
I'm putting this up as a story lest it get lost down the messageboard. By popular demand, Mulled Wine Marie's very special mulled wine recipe.

MULLEDWINE

Ratio is 2 to 1 orange juice to red wine so adjust to the size of your flask.

TO MAKE 1.5 LITRES (you need to make a large quantity as everyone around you will want some - hence the recipe here)

1. litre of cheap orange juice
2. soft brown sugar - to taste - start with two /three tablespoons
3. handful of cloves
4. 2 cinnamon sticks
5. teaspoon each of ground cinnamon and nutmeg
6. sliced orange or lemon if you have - optional
7. teaspoon of ground ginger (optional)

Heat all slowly in saucepan and let simmer gently for flavours to infuse - say about twenty minutes. Let stand for as long as you have time.

Put hot water in the flask to warm it - not boiling.

Strain orange juice mixture and put back on the heat - adding one bottle of full bodied red wine (CHEAP O.K.) - HEAT TO JUST SIMMERING POINT - turn off quick - taste - you may need to add a bit more sugar - you can then either add brandy - depending on drinking at home or away - two large cups of this only comes to a glass of red wine - so drivers are o.k.

Throw out water from flask ??? I didn't once!!

Grate over fresh nutmeg - optional and pour into flask - enjoy.

More London Irish headlines
London Irish Poll