TFTM 2013 - 8 : Joe Ansbro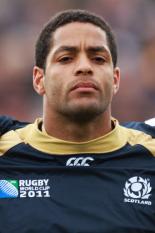 By Big-Al
August 12 2013
Thanks for the memories continues with Big Al sharing his photo memories of departing players. Today a sad one, it's never good to see guys in the prime of their lives having to give up playing rugby, and when they're as good as Joe Ansbro it's heart-breaking.
Joe joined us from Northampton for the 2011-12 season, although World Cup duty with Scotland meant we didn't get to see him until mid-October. Joe made 14 appearances and scored 3 tries during his first season with us. As well as winning 11 Scottish caps, Joe has also represented Cambridge in the Varsity match. A serious injury suffered during pre-season meant Joe missed the whole of the 2012-13 season, and on medical advice he has now retired from playing rugby. It is a shame to see such a promising players career cut short.
Thanks Joe and good luck for the future.
Click on picture for full-size.
More pictures of Joe