TFTM 2014 - 6 : Sailosi Tagicakibau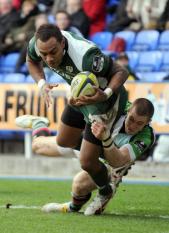 By Big-Al
September 2 2014
In the final episode of Thanks for the Memories for 2014 we say farewell to a fantastic servant and firm favourite of the Irish support (especially the ladies, for some reason...) - Sailosi Tagicakibau. Winger, force-of-nature and all-round nice chap, there really is only one Sailosi Tagicakibau!
Sailosi moves on after 9 seasons with London Irish, in which time he made 158 appearances, scoring 58 tries. Sailosi also has 21 caps for Samoa and has represented the Pacific Islands on 3 occasions.
Blessed with both power and pace, Sailosi has been one of our most exciting players to watch over the years. With a strike rate of better than a try in every three matches, he is feared by defences across the premiership and beyond.
Thanks Losi and good luck at Wasps.
Click on picture for full-size.
More pictures of Sailosi