London Irish v Harlequins Preview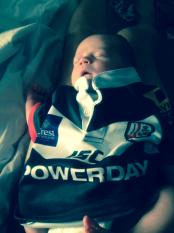 By Samuel Browne
September 4 2014
The waiting is over. For months now we have been wandering blindly in the darkness, desperately seeking succour at the teat of entertainment. Inside we have felt a deep, mournful sorrow spinning through the void of emptiness that is our soul. However, the dark cloud has begun to lift. The faint, gentle flavour of hope has teasingly tickled our lips, tempting us like a new-born babe reaching for their first feed. As the long, hot summer has faded it has grown and grown, filling our world and delivering sign after sign that the ultimate moment of halcyon wonder is upon us…it's the annual slugfest in the Great British Bake Off! Oh, and in other news the new Premiership season starts on Saturday.
Irish go into this season with a quiet sense of anticipation building amongst the fanbase. Our recruitment drive has been strong, particularly in the pack, with players brought in to own a first team place rather than provide 'competition for places'. We have the best front row resources the club has seen for many years with Paice, Ellis, Aulika, Cross, Court and Parr all genuine first teamers. Our second row has been filled with gnarly brutes with Cox and Leo being experienced and ferocious. The back row resources at our disposal should be sufficient for all but the most severe of injury crises with five full internationals, a man who should have been an international and a young tyro. At half back, Scott Steele looks to have the attributes to challenge Tomás for the starting jersey whilst Noakes and Geraghty will provide different options for different conditions. In the centres, I'd like to see Guy really push on this season. He has all the potential in the world but had last season ruined by injury. I can see him being as important as any of our recruits in the backs. The back three remains strong with Short being another player with huge potential yet to be recognised. I wouldn't be surprised if the much-discussed 'Marquee player', if we do end up bringing one in, turned out to be a back three player.
There is no other team in the English Premiership that Irish fans love to hate as much as Quins. Whether it's proclaiming their internationals as 'overrated', pointing out how awful their ground is or predicting bad tidings for them, we love to poke fun. For what it's worth, they are my prediction for relegation this season, as they have been for the past 20 or so years (I got it right once). The sad thing is, they do have some genuinely fantastic players. At Premiership level, their stars shine brightly. Their engine room is driven by one of the most effective and enduring players in my memory, Nick Easter. Robshaw, although not international class in my opinion, is a magnificent Premiership player and his leadership and work-rate are second to none. He is ably assisted in the back row by the rising star of Wallace who is a tornado of activity around the pitch. They have two of the sharpest attacking players in the game in Evans and Brown and have now added to this with the arrival of Yarde. I do feel that they really lack class in the centre. If we can exert a lot of pressure there, we have the potential to stifle some of their attacking flair. The risk is that Evans is more than capable of covering up the inadequacies of Quins' centres with his own creative brilliance. If we can at least gain parity in the breakdown (big day of work Trev and Blair) then we can stop Danny Care getting the quick ball that he thrives on and potentially prevent them from carving us open. That is a big 'if' however as Robshaw and Wallace are excellent at the breakdown. It will be important for Skivs to get in the ear of the referee as one of Robshaw's less attractive habits is his constant, embarrassing whining at the man with the whistle. It does him no credit, but I'm sure it can be effective. However, Quins' big weakness is, as always, their front row, where I can see us giving them a tough time (provided our expected front row perform up to scratch and the scrum is well-refereed). This season, one of these front-rowers, Joe Marler, has been made club captain. Not since Douglas Haig has there been a man less suited to leading a body of men. He showed some flashes of brilliance in 2013, but has now settled back in to being a low quality loosehead prop. Despite this, Quins are a genuinely top-class team and we will need to be at 100% to have any hope of bringing home some points. I do think they will get relegated, but they'll be very difficult to beat on Saturday.
It should be a good game; both teams can be ferociously exciting to watch. There are a wide range of international quality backs on display and some electric pace amongst those aspiring to the highest level. As such, my prediction is a 9-3 win for Irish.
(I will now step back and await the flashing sirens of the Harlequins Thought Police as they respond to the emergency call after my being 'a little nasty' about Joe Marler and saying they'll get relegated…again)
More London Irish headlines
London Irish Poll