The Steady Build Continues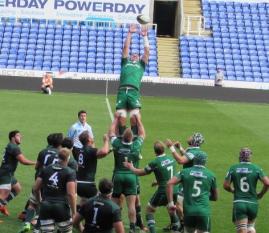 By Finno
September 27 2016
Our third home game of the season and first Sunday outing arrived on a beautiful sunny and mild autumn day. All looked fair for a great afternoon of open and running rugby against an Ealing side that were buoyed from their excellent win, the previous week.
An early check on Google Maps showed that route from Sussex via the M25/M4 looked clear, so all set for a quick journey. A further check an hour later showed an accident on the M25 (always seems to happen when LI are playing at home…) which meant that cross country via Guildford, Bracknell etc., was now the quickest route. So off we set and 90 mins later we rolled into the carpark at the MadStad at 14:20, what was I worried about, plenty of time to spare!
As I had the family with me for this game, I had to relocate from my new excellent ST seat on the halfway line, to the noisy North End (as described by Caimh)! Had I returned home to Ireland? I've never heard so many Irish accents at a LI match, now I know where you've all been hiding. Obviously, 50% and 0% 'Not Nots' are alive and well and there are more of us than I reckoned.
And so to the match, Irish started well, with an early try, beautifully finished by Ransom in the corner. We steadily built on that as the half progressed, with an attitude that I would describe as 'let's win the match first before trying to gain a bonus point win'. Tommy Bell kicked a few straightforward penalties. For me, Tommy has been one of the stars for us this season. He's been everything we've been missing at 10 for a few years now. Assured with the ball in hand, and 'boy' has he got a boot on him!
Upfront there was not much in it, as Ealing gave as good as they got. They are one hell of a big physical team from 1 -22, and certainly made their physical presence felt all around the pitch.
Dare I mention the lineout?? Okay I will, Ellis did not have his best day throwing in but the Riverdance(as described on another thread) that was going on in front of him certainly didn't help. Between them they managed to butcher a number of throw ins. Work is definitely required this week in training. I think the attached photo describes the frustration felt by all!
After an Ealing try in the far corner, Trayfoot finished off a good moved to dot down in the other far corner and Irish went in at half time 18-7 in the lead.
The second half began much as the first half finished, until Topsy made an excellent break through the middle for Marshall to ultimately finish off in the far corner, for his maiden LI try. In his second game for Irish, Marshall is starting to show what a class player he is, not only marshalling (sorry!) the back line, but also going forward. I hope he doesn't get too frustrated popping passes in the tackle for support runners that aren't there, unfortunately this is the Northern Hemisphere. Although I'd love to see Southern Hemisphere running pop passing rugby, this was the rock that Coventry perished on last season. There's always hope though!
Irish, improved their penetration as the bench was emptied, the line out improved and we finally got the bonus point with a sniping Scott Steele diving over in the final minutes. The final score was 32-12 to Irish.
Max Northcote-Green, was awarded Man of the Match, as he had a great ball carrying game and was excellent in the loose.
Fergus Mulchrone (my MOTD) also had an excellent match, making a number of searing breaks and looks on top form.
Topsy Ojo looks like he's getting back to his top form of old… Keep it going Topsy!
And finally, Marshall and Bell as mentioned above, whether either is playing at 10 or 15, are two great signings. The future is bright, the future is Green!!
More London Irish headlines
London Irish Poll