There will be a welcome on the westside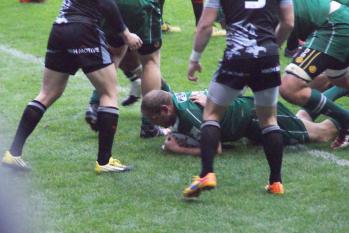 By Irish Stoker
October 14 2016
Saturday 8th October was a mild (almost dry) autumnal afternoon that saw London Welsh re-aquainting themselves with the MadStad for the first time since Boxing Day 2014. Both sides looking to get a good result to finish off the opening set of six championship games before the B&I Cup group games kicked off.
Entering the stadium it seemed busier? Seating fuller than it had been so far?
I have found crossing the east/west divide this season has been strange but I would hate to think how sparce it would have been if we had kept the 2 stands and the chance to mix with new aquaintances and old friends has been a great boon. As expected the welcome from all involved with Irish has been first class.
A slow start to the game and with 15 mins gone, niether side had troubled the scoreboard, Irish were full of attacking promise but each time were thwarted in the Welsh 22. One big improvement was the lineout from recent weeks, this is obviously something that has been worked on/calmed down by the good Dr in his recent visit.
Then came the breakthrough - A couple of pens to Irish comforably slotted home by Tommy Bell, (if nothing else having a kicker that can make it count between the sticks and hit touch when required gives a welcome boost to the scoerboard, team and supporters alike).
Irish did not have it all their own way though, much to the shagrin of those around me the old specture of scrum pens were starting to creep back into the game. Had Ben forgotten to show the ref his medals? Irish again dug deep and put in some good runs and pressure on the Welsh line but they held frustratingly firm.
A long injury break for Trev saw the local chat around me turn to "Fantasy Rugby" - the mind boggles
With the game back underway and Trev still in harness, the fortunes of the whistle were reversed - Scrum pen Irish! With a pendulamic accuarcy the score moved to 9 - 0 followed by another pen that drew a monster kick to touch by Bell.
The lineout was also running at full steam with both De Chaves & Robson securing all sorts of quality ball for the pack to feed on. With another Welsh infringement spotted by the ref Irish "took a chance" with a chip over the top and Mulchrone gathers for a try - Bell converts
HT - LI 16 LW 0
With Irish now attacking north stand towards Poo Corner those of us in G8 were hoping to see some close up action and we didn't have to wait long. After another lineout and drive from the forwards it had to be Mr "250" Paice to score next. Emerging triumphant with the ball he was greeted with raptious applause and cheers from the fans and a good slap on the head from his team mates (supprised he did't have to go off for an HIA) Bell converts again 23-0
An injury to Topsy saw another long delay in the game but this did not dampen Irish's flow with an almost carbon copy of the last try De Chaves crashes over for a score, conversion missed. Irish were taking Welsh to the sword with their mauling, and soon after had another potential score "held up".
Now deep in the second half and after many changes from both benches the balance of the game shifted for a while but things were soon righted with McKibben in the mix. A quickly taken pen from 5 metres out saw him snipe in for another bonus point score for Irish, and he wasnt done there - showing great tenacity scragging the Welsh 5 to stop another advance.
Not having a visible running clock makes judging the time left for play more of an art than a science these days but we knew time was ebbing away when David Paice was given a chance to voluntarily leave the field to receive his well deserved adulation from the crowd. With the captian gone and the game won for Irish, Welsh saw an opportunity to cut loose and prove to the gathered 4000 that they can cross the whitewash with 2 late tries.
FT - LI 35 LW 12
Good performance by Irish, they seem to me to building every week and adding new dimensions to the basic plan. Gaining 6 wins from 6 is a bonus and should not be taken for granted that this will continue but if the skills and performances do we will be set fair for a good season.
MotM Paice
Although I still find myself heading out the stadium in the wrong dirction of the car I am glad there is a "Welcome in the westside"
View a Printer Friendly version of this Story.
There will be a welcome on the westside
The Craic www.londonirish.org (IP Logged)
14/10/2016 13:50
What do you think? You can have your say by posting below.
If you do not already have an account
Click here to Register
.
Sorry, only registered users may post in this forum.
More London Irish headlines
London Irish Poll