People say that children are our future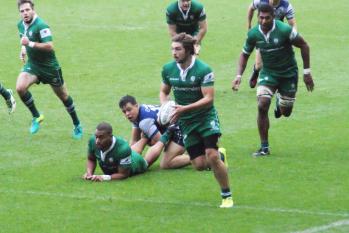 By Ozzy3213
October 26 2016
Saturday 22nd October. That's the day I became completely 100% convinced that the club is now on a very stable footing playing wise, and has the structure in place to go forward, gain promotion, and continue building towards being a competitive Premiership side.
Let's start at the beginning, and from the moment of the team announcement on Friday I was excited to see some of our young guns in action, but also quite nervous, as despite their obvious talent, I was unsure what to expect. Come Saturday and I got myself and the middle two of my four children, Hattie (9) and Darcy (6) ready, and went to collect their friends, twins George and Archie (9), who were coming to their first ever rugby match.
On our way, the car was awash with questions from the boys, answered by the girls, and by the time we reached the MadStad and headed for the Digger Pound the kids were bouncing off the walls with excitement. That was only heightened once we were inside, as they got to meet and have photographs with James Marshall, Seb de Chaves and Blair Cowan, before being whisked away to be part of the guard of honour as the players ran out onto the pitch.
Whilst the day overall provided us with a glimpse into the future, in a playing sense it began with a nod to the past, and a minutes applause to mark the life of Anthony 'Axel' Foley.
Once complete, the game got underway and we were very quickly behind to a Connacht penalty. What then transpired was 34 unanswered points from us and a performance worthy of acclaim.
The nuts and bolts are that (in order) Greig Tonks slotted a penalty to level the scores before Harry Elrington rumbled over for a try, off the back of a driving maul after a penalty had been kicked to the corner. Another kick to the same corner gave Connacht a lineout on their own 5 metre line, which was overthrown, secured by Conor Gilsenan, and then picked up by Ollie Hoskins who dived over from close range. With Greig Tonks converting both tries we went 17-3 up and we were well in the driving seat. Another penalty kicked to the same corner, and a third try, again off a driving maul, with Jason Harris-Wright completing the front row unions hat trick of tries. This time Greig Tonks couldn't quite convert. On the stroke of half time Senitiki Nayalo earned a yellow card as we came under pressure in our own 22, but we managed to see the half out without conceding and at half time it was 22-3.
The second half began with some more pressure from Connacht, and seconds before Nayalo's return to the fray, Tom Parton also received a yellow card for an infringement close to our try line. Again, we managed to see the 10 minute sin bin period out without conceding any points, and once back up to a full compliment of players on the pitch, bagged the bonus point try. This time, after a couple of close range drives from the forwards down in the left hand corner, replacement scrum half Darren Allinson fired the ball out to Greig Tonks, whose perfectly weighted crossfield kick found Tom Parton out on the right, and he stepped the last defender to score in the corner. Tonks converted from the touchline to make it 29-3. Shortly before full time Parton, now playing outside half, pounced on a loose ball and fed Matt Williams on the right. In heavy traffic he produced a lovely out the back off load to Joe Cokanasiga whilst being tackled, and the big winger powered over for a fifth try with a Connacht defender hanging off him. No conversion this time, but a 34-3 win, and 12 academy products featuring for us.
That summary does not tell the whole story however, and there were a number of things that really impressed me apart from the result.
1. Structure and game plan.
What was brilliant to see is that nothing changed in the way we played despite wholesale changes in personnel. This pleases me greatly, as it is exactly what the good doctor spoke about after the Doncaster game, and it was great to see it in practice.
2. Defensive intensity.
From 1 to 22 our defensive intensity was fantastic. There was a clear desire to keep getting off the line and not allow a try to be conceded. There was one point where Joe Cokanasiga sprinted across from the right wing to the left to make a tackle that if he hadn't made would potentially have meant a try was conceded. Fabulous to see.
3. Basics.
If you watch the two tries from the mauls, you will see that we kept things simple. Gone was the ridiculous lineout Riverdance that we saw in a game earlier this season, and in it's place was a simple but accurate plan. For Elringtons try we hit Gilsenan at the front, and for Harris-Wright's we hit Sexton at the tail. The movements were kept simple and gave the hooker every chance to hit his man. This shows we are also learning our lessons.
4. Young players/depth.
This was an incredibly young side, and whilst I accept the standard of opposition was not particularly high, they did not look out of place. Connor Murphy and Joe Cokanasiga were the standouts of the academy lads, with Joe in particular looking ready to take the Championship by storm. Are they all Premiership ready? No, of course they are not. But there are signs there that they could be in 12-18 months time. Similarly, some of the older guys looked to be very capable. Harris-Wright did the basics well and Nayalo looked a handful ball in hand, whilst Greig Tonks controlled the game well in the 10 jersey. Conor Gilsenan was outstanding in all aspects. None are first choice, and some possibly not even second choice, but all look as if they could come in and do a job when needed.
Overall we look very much on track with where I think Brendan, Kendo and the coaching team wanted us to be at this stage, if not potentially slightly ahead. The whole feel of the club is really positive and there were many smiling faces in the club room afterwards. Not least the four children I had with me, who hunted down players with gusto to get them to sign their kindles/huddles and shirts, and pose for pictures. My thanks to all the players for your time and patience with them.
It's fair to say the boys are now smitten and want to come again. Their mum text me yesterday to say they've still not stopped talking about it. For the record Joe is now their hero, with Greig not far behind.
People say that children are our future, teach them well and let them lead the way, and that's true for our club on and off the pitch. On the pitch it's looking good, and off it, well I'll leave you with my 6 year old daughter Darcy's match report, which she wrote for me (spelling and grammar as written);
"We went to rugby with my friends. We were very excited to be going. First we went to the digger pound. we were the first ones in there we had great fun bounsing up and down. The we went to do the gard of honour then we came back to dad. We got to sit at the front and digger came and gave us a hihg five. we waved are flags right over the fence. We got choclet brounies and marshmellos they were delicios. Every time someone scored a try like Joe Cokanasiga we went right over the fence with are flags. then we went back to to the gaurd of honour then we kind of went through the same thing on the second half. after that we got to meat the players indoors. It was the best day ever. The End"