Onwards and Upwards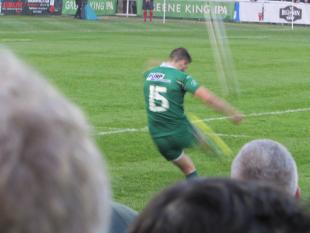 By Finno
November 1 2016
So, our first London away derby of the season had arrived. For a change, and to sample the potential 'carless' future at Brentford, I decided to travel from Sussex by train. Despite the inevitable track works it still took about the same time as travelling to and from the MadStad. However, public transport plays a poor second to the comfort of the car. Anyway, Brentford is a discussion for another day!
It did, however, afford me the opportunity to have a couple of beers in The Orange Tree before the match. Oh the memories that it brought back, as this was the watering hole we always used back in the late eighties/early nineties before 5 Nations games. 09:52 from Horsham got us to The Orange Tree by opening time of 11:00, more beer than was sensible, then Fish & Chips in the chippy, a couple of doors down from the pub (long since gone now), and then 50p on one of the fleet of London buses that left from the pub to the old/cold Twickers, where we drank more beer before and after stood in open behind the stands freezing, and oh, watched the rugby in between. Happy days!
The nostalgia continued, as I entered the Athletic Ground. Apart from the rugby this season, I'm really enjoying revisiting traditional rugby grounds with their special intimate atmosphere and friendly supporters. It's something that has got diluted with professional Premiership Rugby.
Irish started well and purposefully, with Paicey finishing off a driving maul with ease after a couple of minutes. That set the tone for the game, where Irish excelled in all areas. Attack was assured, with good handling, set piece solid, and our defence was imperious with excellent line speed and intensity. Scottish really didn't have an answer to our defence when they had the ball. They were constantly put under pressure, going backwards and ultimately making mistakes. It was superb stuff to watch from an Irish perspective. And so to the highlight of the first half (well the match really), Big Joe on his Championship debut receives the ball in our 22, and decides to have a run at them. He seems to wave at us with the ball as he sailed past, as if to say 'Watch this!' We did, and there was the collective sound of 'jaws dropping' as he dotted down almost under the posts. Absolutely fantastic! Tries from McKibbin and Bell ensured that we'd secured the bonus point before halftime. (28-5)
Despite a slow start to the second half, Irish kept the pressure on and ran in a further 4 tries from Tiks, Steele, Blair and Bell. They kept the same intensity as in the first half and continued to pummel Scottish, right to the final whistle, despite a hiccup of a last minute try by Scottish. Final score 62-12 to Irish.
That was the most complete performance I've seen from Irish in recent years. Every one of the team 'stood up to the plate', knew their job and executed with accuracy. The team was MoM, as all 22 did their job, and it was a pleasure to watch.
This squad can only get better as the season progresses and the coaching staff under Dr V's watchful eye, seem to have transformed them this season. They all deserve huge praise.
Finally, I do need to give Tommy 'Boom Boom' Bell a special mention. How wonderful is it to, at long last, have a high percentage kicker in the team. He was absolutely imperious with the boot, both off the tee and from hand, and not too shabby with his two tries also. Keep it up 'Boom Boom' !
p.s. Looking through my completely amateurish photos taken on the day, I luckily caught one of Tommy's conversions, with the swoosh of his boot launching another exocet bound for the bisection of the posts! I had to use it as the photo for this report.
View a Printer Friendly version of this Story.
Onwards and Upwards
The Craic www.londonirish.org (IP Logged)
01/11/2016 14:01
What do you think? You can have your say by posting below.
If you do not already have an account
Click here to Register
.
Re: Onwards and Upwards
01/11/2016 18:36
Great report Finno!

And pleased your '38 pt kiss of death' from last term has been put to bed...!
Sorry, only registered users may post in this forum.
More London Irish headlines
London Irish Poll