Perfect 10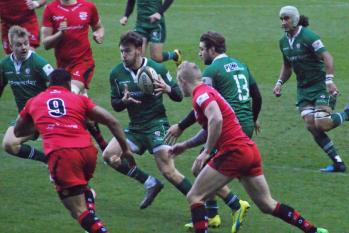 By Props Are Not Stupid
December 1 2016
Irish approached this match with 9 wins out of 9 and we were all getting used to this strange feeling of not just winning, but doing it with a bonus point and not giving a chance to the opposition of getting a losing bonus point. As the win was more or less a certainty, the excitement now relies on guessing if we are going to get the bonus point before or after half time. As Jersey Reds were sitting second from bottom having won only 3 games so far this season and with rumours of bankruptcy, this was heading to be one of those easy wins for London Irish, hopefully getting the fourth try before halftime. Things couldn't have turned out any more differently.
On the third minute of the game a quick tap penalty from Sam Fisilau, a scrum-half who is built like a number 8, set up former Exile Guy Armitage to score in the Poo corner after sprinting for half the length of the pitch. Unfortunately Irish flanker Max Northcote Green got injured while trying to chase Guy and had to be replaced by Mike Coman. Katz purred in the conversion for an early visiting lead in the scores of 0-7.

Irish did not reply with points of their own until the 17th minute, when Tommy Bell ended the home team draught in the score board with a penalty kick. Tommy celebrated his 24th birthday earlier this month and also after this kick he had now scored over 100 points so far this season.

On the 37th minute it was the turn of another birthday boy, this time Exiles captain David Paice, who celebrated his 33rd birthday last Thursday scoring the first of his two tries in this game by with a forward team effort as the pack formed a maul from a line out which didn't stop going forward until Paice scored.

Even though Bell scored the conversion the game was far from safe, and Jersey proved to be the toughest visitor to the Madstad so far this season. Katz kneaded a penalty kick from his own half in the last minute of the half to draw the game at 10-10.

While Katz was still licking his paws, Irish ended the half with a carbon copy of Paice's first try. This time prop Palframan was the ball carrier in the maul and landed the try which after Bell's conversion left the half time scores at 17-10 for Irish.

Whatever happened in the changing rooms at half time made the Irish come up firing all cylinders, acknowledging the opposition's qualities and taking the game up to them. Ben Ranson carried on with his own try scoring record in three consecutive games by scoring a try after a great combination of phases in the opposition 22 in the second minute of the second half, and two minutes later Tom Fowlie scored more or less in the same spot, putting the game more or less safe from a Jersey Reds side that never gave up, even though they found themselves 29-10 down. Irish received some of their own medicine when Marc Thomas scored from a driving maul from the line out that was joined by red forwards and backs alike, taking a page of May's book, a winger who joined in the scrum for England the previous day. The conversion left the scores 29-17, so a losing bonus point was on the cards for the visitors, who never gave up and scored two further tries.

The final score was 42-29. The score doesn't really reflect that Jersey Reds have probably been the best team to visit the Madstad so far this season, but leaves us hoping to see three more mouth-watering encounters with them this season. Surprisingly enough, there were a few away supporters who made the trip to Reading. I spoke to a few of them, and they reassured me that there is enough hotel-space and beer in Jersey for all of us. I am looking forward to that trip already. Last year I couldn't make it to New Jersey, but I hope that in 2017 I will be losing my mobile telephone, my family and my dignity in Jersey.

The evening ended with the ever entertaining Ronan McManus (and me joining him on the air triangle for one song) and Caimh's interviews with Man of the Match David Paice, Theo Brophy Clews and Assistant Coach Clark Laidlaw. It was smiles all around after the Perfect 10, as London Irish have so far won 10 games out of 10 and don't seem to be willing to lose any more games any time soon.
More London Irish headlines
London Irish Poll