Bell saves the day, with late penalty!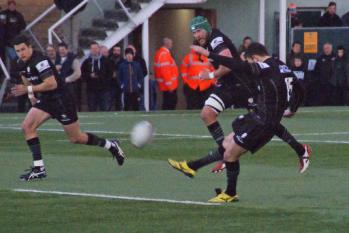 By Finno
February 1 2017
After a couple of weeks of B&I Cup action it was back to the serious stuff, The Championship. This week's opponents were Ealing who've been flying high over the last couple of months and were currently in 4th place. It promised to be a competitive match, and with most of our first choice starts rested and refreshed since New Year 's Eve, confidence among all our fans were high.
I set off from Sussex late morning with the weather bright, sunny, but cold with a chance of some showers. Amazingly, I flew around the M25 (where was all the normal traffic, when I'm going to the MadStad ?) and down the A40 getting to Vallis Road before 14:00. What a wonderful facility they have there. Two beautiful 3/4G pitches, nice clubhouse facilities and plenty of room to stand/sit around the pitch. Lots of kids (of all ages) with varying degrees of Ealing attire festooned the ground. Obviously, they have a thriving club, in the traditional sense, and yet again, it's one of the things I love about being in The Championship this season, traditional rugby grounds to visit. Irish supporters were there in force and somewhat overwhelmed the home support. Local supporters stood by us, said they'd have to abandon their normal plan of moving ends at halftime to watch Ealing attack....they wouldn't get a place at the barriers...too many people in green ! So, they had to stay put, and one of their number included the normal local supporter 'bigmouth/comedian' (you know the type that criticises every decision and plays to the crowd surrounding him). He started well by referring to our bodhran's as drums !! That went down well, and I thought, 'Here we go, this is going to be a painful afternoon'. However, my view mellowed as he actually was quite funny, even JP found him funny, and chatted with us at halftime, however he might have been a tad hard to take if Ealing actually wong!

And so to the match, Chesters, who'd been mentioned on The Craic as a danger man only took a 6 minutes to dot down for Ealing. Conversion missed 5-0. Bell responded with a penalty 5-3. Ealing continued to press for long periods and Irish spent a lot of the time without the ball but defended well. Marshall then finished off a nice move, following a number of phases in their 22. The try was converted making it 5-10 which is how it finished at halftime. Surely, we'd be better in the second half, get more ball and be more clinical with it? The lethargic first half was just rustiness....definitely!

Wrong !! Irish started the second half much as they had the first, defending for long periods without the ball. Ealing scored a penalty to make it 8-10, before a bit of vintage Topsy had him coming off his wing on a lovely line and was found by a beautiful reverse pass from Marshall...converted try 8-17. 'That's it lads, more of the same now! Let's put this game to bed'

Wrong !! It was Ealing who upped their game and wouldn't 'go away', and were rewarded with another converted try 15-17. We're definitely in a game here, and we didn't really look like have the 'cutting edge to score'. Bell lands another penalty 15-20, a bit of breathing space. But within three minutes Ealing had dotted down again for a converted try 22-20. We could lose this! However, Irish dug deep and eventually won a penalty that Bell slotted 22-23, final score. Phew!!

So, what happened?? Were we just rusty?, were we sloppy and inaccurate?, were we too confident ?, were we not good enough ? , or was it that Ealing are just a 'bloody' good side. I think it was a little of all the above, but there is always a huge amount of angst on The Craic/Facebook etc when we scrape a win.

I think the problem is a combination of us not knowing really how good The Championship is and how good are we really are by winning all of our games, and every time there is a close game we all think, 'yea, but a Premiership team would have walloped us' ! Maybe they would, maybe they wouldn't, we'll really only know that answer if/when we get promoted.

But if you take this game on face value, we played a good and difficult team who were up for it, we weren't at our best but we still ground out a victory, as we've done in the last three Championship games. That shows character and togetherness that was painfully absent last season.

I think Nottingham may regret playing us next!