Are we nearly there yet?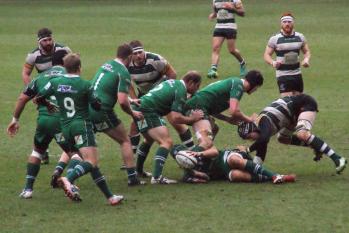 By Griff
February 15 2017
A chilly day in what has been a warm winter saw Nottingham bring their rugby to the Madejski. With Irish falling to Ospreys in the British & Irish Cup and then mis-firing against a plucky Ealing Trailfinders team you couldn't help but wonder if this was going to be the first home loss (and, indeed, first loss in the Championship) for the Exiles.
Worries were quickly put to rest as a rampant Irish team went to work taking the visitors apart. James Marshall opened the scoring with an early penalty before the tries began. Aseli Tikoirotuma bagged the first from a finely-weighted grubber kick from Marshall. This was a rare backs-move in a game in which the Irish pack dominated. The second was more in-keeping with Harry Elrington dotting down at the back of a rampant maul.
Double-world-cup-winner Ben Franks scored the third with a pick-and-drive before Scott Steele brought the backs back into it with a fine sniping drive from a ruck.
Marshall managed two of the four conversions to make the score 27 - 0 going in at half-time. Job done, bonus point acquired, shouldn't be a problem from here right?
Of course supporting Irish isn't like that and the team do like to make things difficult rather than closing-out matches like this. Actually, that's not entirely fair. Nottigham came out for the second half firing and put together a period with many, many phases of attack without mistakes and with some genuinely great strike-running - any defence would have been threatened by this and before long scrum-half Murray McConnell crossed the Irish whitewash for a fine team try, converted by Lawrence Rayner. Were Nottingham coming back?
No, they weren't. The Irish pack continued to bully the visitors and ground out many scoring opportunities. Johnny Williams appreciating the space given to him by a dominant pack scored Irish's first try of the half. Closely followed by birthday-boy Joe Trayfoot from a driving maul. Another maul was followed by another set of pick and go drives which saw Ofisa Treviranus get a hand on a ball knocked over the try line by a retreating defender as Scott Steele was passing it out of a ruck. Nice piece of poaching Trev!
Yet another maul saw returning-from-injury David Porecki run from the tail and cross for a try showing the hooker has the makings of a good number eight. The backs joined-in briefly with Topsy Ojo scoring after a scrappy multi-phase attack finally came good giving Irish a fine 60 - 7 lead.
Nottingham should get a lot of credit for not only not giving-up but for actually turning the tables. The visitors put together another fine attack, very reminiscent of their start-of-half effort and
replacement scrum-half Darryl Veenendaal showed some smarts to reach for the line and give his team a second, albeit consolation, try.
So it finished 60 - 14 and Irish can be mostly happy with their day's work.
This result mathematically guarantees a play-off spot and so we must look to (and hope for) a possible return the the Premiership. Taking this team back into that league and the forwards dominance won't be so marked (if it's even there) and against a demonstrably inferior side the backs never really looked like firing. Nottingham had the best of the back-play and I've not seen any stats for the game but I'd be surprised if the backs made more yards than the forwards. This is a big worry. I'd like to see our back-line running in tries for fun in this league or they're simply not in with anything close to a chance against the big boys.
Taking the positives we have built a very effective platform to work-from but with the season coming to a close I do worry that we won't have built the attack in-time to close-out the play-offs and make an impact if we do go back up.