The Battle of the Exiles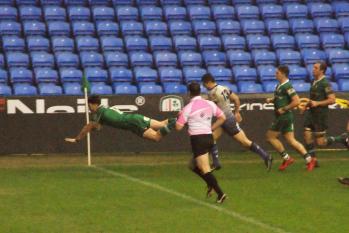 By MattM
February 27 2017
I've not been coming to London Irish games for long (less than a year in fact) so the trip to the Madejski is still one that comes with a tinge of excitement. After my morning coffee my wife and I piled into the car for the short trip to Reading from down on the coast, buoyed by the score the boys racked up in their last game.
As we left Hampshire we somehow also left the pleasant weather behind for a light but incessant drizzle and deep down I realised that I would spend the afternoon watching a lot of dropped balls due to greasy conditions.
Nonetheless, we arrived, headed to the hotel and were happy to see a decent smattering of London Scottish shirts mixed among the sea of green at the bars. A decent crowd and, hopefully a good atmosphere, would lead to a good game experience even if there were butter fingers on the field!
As the two teams ran out onto the field two things put a smile on my face – Caimh did a fine job with Tevita Koloamatangi's tongue-twister name and Lewington looked really eager to get stuck in!
From the off the game was in Irish's hands and a bare 3 minutes in Ben Franks muscled over the line for our first try. Tonks fails with the conversion and my heart sinks… if we're missing kicks it could be a long day.
Four minutes later and despite some attritional work from the boys in green slowly reducing Scottish opportunities the ref makes himself known (and instantly hated by most of the west stand) with a penalty to the visitors. Less than ten minutes later and much the same thing happens again. A little voice in the back of my head wonders if I'm about to see the team lose their perfect league record…. But the play on the field is good and our forwards are smashing anything in sight. Coman seems to genuinely not care about his health as he throws his body at everything while the front row outmuscle anyone in purple.
The hard work is borne out a little past the midway point in the half as Paicey dots down over the line and Tonks places his kick well. You can see the weight fall off his shoulders as it sails between the uprights and from there his game lifts as he tries to tackle anyone that moves, putting in a sterling defensive shift and closing down a number of opportunities.
From there, well, I don't really know what happened because a bus load of excited kids turned up and it took them forever to find their seats. Once they did they hoovered up sugary sweets and were totally hyperactive throughout…. A couple of them even noticed a game of rugby being played! Somewhere on the field Scottish lost their full back to a yellow card, Ben Franks scored again and Tonks once again added the extras.
Half time came and with it the most rancid excuse for coffee I've ever had pass my lips…. Which was swiftly replaced with a pint of Guinness.
The second half started with a Scottish side who looked eager to do some damage. They scored a try and converted it 10 minutes into the half and once again I couldn't help but wonder if this would be the day we broke the streak. The fact that the referee was dishing out erratic decisions didn't help matters and while I wouldn't suggest he was biased, the fact that he looked like he was wearing a Scottish kit that had been washed one time too many didn't pass without notice.
Thankfully Johnny Williams, who had been doing a lot of unsung work throughout the game slowly, methodically, gaining ground was rewarded for his efforts and once again Tonks did the honours from the tee.
Scottish would get another try and keep things very nervy, but despite Luke Narraway's second half appearance from the bench being cut short by a yellow card for a tussle on the far side of the pitch the team secured a penalty that Tonks slotted to assure the win.
So, despite what many will remember as a poor game due to the greasy conditions meaning the ball slipped through fingers as often as it was caught, the Exiles gave a good account of themselves. The pack were uniformly excellent, the front row out powering their opponents while the back row did yeomans work. Koloamatangi looks a handy acquisition and instantly won my admiration when, very early into the game, he stuck out a hip in the ruck and knocked Scottish's handy looking number 8 onto his backside. Will Lloyd impressed at Lock too. He's always looked solid from the bench but wasn't out of place being in the lineup from the off, likewise his replacement McNally looks like a player who can be really useful to the team.
While the backs didn't have many moments of fluid brilliance Johnny Williams was a Trojan, Tonks was impressive in defence and Alex Lewington had more than a few little touches of magic that served to remind us just how much we missed him!
If this is an Irish team struggling to play well (as has been suggested by many an online pundit)… they'll be terrifying oppositions when they find real form!