Irish seal semi-final place in British & Irish Cup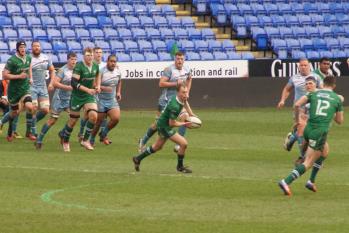 By Sam_R43
March 14 2017
Irish seal semi-final place in British & Irish Cup with victory over YorkshireLondon Irish beat Yorkshire Carnegie for a second time in a week with plenty of younger squad members on show for both sides. The 34-14 win sees Irish progress into the semi-final of the B&I Cup where they will play Jersey Reds at the Madjeski on Sunday 2nd April.

London Irish were the victors last week at Headingley for the top of the table clash as they eked out a 20-14 win to see them remain unbeaten in the Championship. However, this weekend attention turned to the British & Irish Cup quarter-finals as both sides rung the changes from the previous week, with almost entirely different starting 15s. Both sides continued to use the competition as an opportunity to give much needed game time and experience to young members of their squads and academy.
The opening half at the Madjeski was a nervy affair with the majority of play being outside the red zone of either side. London Irish established early dominance in the set-piece, causing real problems for the Yorkshire lineout, and ascendancy in the scrummage. With the first points of the game coming from a scrum penalty to Irish with Atkins slotting the kick to give Irish the early lead. Irish set-piece prowess also resulted in the first try of the game, as a strong driving maul from the lineout was defended well initially by Yorkshire, before captain Luke Narraway burrowed over to finish the move.
With Irish leading 10-0, and beginning to take control, it was their failure to control the breakdown area that allowed Yorkshire opportunities to counter attack. However, it was a returned kick from Irish that gave Yorkshire a score from nowhere. With the Irish defence missing tackles it gave a simple two-on-one which was finished well by flanker Josh Bainbridge. The half finished with neither side able to capitalise on their chances, but Irish added a further penalty giving them a 13-7 lead at the half.
Yorkshire started the second period well, and kept Irish pinned back deep inside their own half for large parts of the opening 10 minutes, but they were unable to turn this pressure into points with Irish disciplined in their exit strategy. The half was sparked into life with a quick tap penalty taken by Ben Ransom which caught the Yorkshire defence off-guard. With defenders struggling to work back Ross Neal made the most of the opportunity stepping past would-be tacklers to run in for a score.
Irish, now with momentum on their side, continued to apply pressure to the Yorkshire defence. With a penalty kicked to the corner, Irish looked to increase their lead and did so immediately, as Gilsenan's powerful carry was stopped just short which gave Jebb Sinclair an opportunity to bundle over the line and score on his return from long-term injury. London Irish sealed the victory with 10 minutes to go as a long floated pass out wide from 19 year old fly-half Atkins finds Ross Neal, who again caused problems for Yorkshire defenders before sending Topsy Ojo in for one of his simplest tries.
While Irish had the game wrapped up, Yorkshire continued to work hard and were rewarded on the scoreboard for their efforts at the breakdown. With flanker Lewis Wilson breaking through the middle of a ruck and hacking the ball through as Stevie McColl used his pace to beat the Irish defence and fall on the ball over the try line. Yorkshire continued to press in the dying moments being forced to attack from deep, but handling errors left the ball squirting along the ground where impressive winger Matt Williams collected and scored in the corner on the week of his 19th birthday.
The final score gave Irish a 37-14 victory over Carnegie, and ensured they progress to the semi-final stages of the British & Irish Cup. They will be pleased to have turned their second half dominance into points in such a clinical fashion with a very strong set-piece lead by Will Lloyd & Connor Gilsenan. There was also much to be excited about in the Irish backline as young players impressed, notably Jacob Atkins, Ross Neal & Matt Williams all put in impressive performances. Yorkshire will be proud of their work at the breakdown as they caused problems for Irish throughout the game with Bainbridge & Smith getting through a huge workload. While their lineout and scrummage struggled, they had plenty of pace in the backline with McColl & Arscott continuing to threaten, but too often being starved of possession.
Matters will turn back to the league next weekend for both sides. London Irish will host Cornish Pirates for their annual St Patricks Day Party in front of a large crowd on Saturday 18th. Yorkshire have a crucial game at Castle Park as they seek to end their losing run, which has now extended to four loses, as they hope to re-establish their hold on a home semi-final spot against third place Doncaster.
More London Irish headlines
London Irish Poll