A glorious start to a long hard road ahead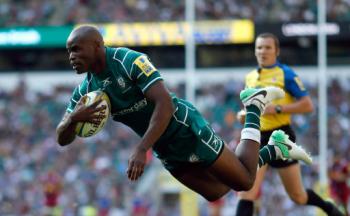 By LIBohemian
September 6 2017
Irish supporter LIBohemian's recollections of a hazy, crazy day out at the London Double Header.
Picked up one of my closest friends from his house in a local village at 9.00am.
Had breakfast at the local Wetherspoons 9.30am. My friend and companion for the day let me have his sausages from his breakfast plate, he informed me that they were bad for you, as he finished off his pint of lager.
I'm, like a few others, not a fan of the London Double Header, but do regard it as necessity for promotional and financial reasons, I was in a way looking forward to this particular one and also dreading it at the same time, the reason for wanting to be there was because Irish were back on the starting grid of the Aviva Premiership, but this was also mixed with the fear that while we were away all the opposition had got that much stronger, this along with the scars still not quite healed from the last time we played in the premiership.
I have sorted out a good route to the ground over the years of going to internationals and premiership games there, it mainly involves stopping at various good pubs across London from Marylebone to Waterloo station, then leaving for Twickenham at the very last minute to watch the game, this incidentally could be a similar route for Brentford.
We sat in our ticket seats for the first game, but met some friends who were on a works jolly and had two seats spare, so we sat with them for the big game.
I was now sat next to a Quins fan and was the only Irish shirt in the row.
The Quins fan next to me welcomed Irish back to the big time. As the teams were introduced, I gulped at the squad Harlequins had, I even said I'd be happy with a losing bonus point (still scarred remember), The Quins fan next to me said it was a team game, which to be proved correct.
I have lost all my notes on the game, because I did over indulge in celebrating the result after the final whistle, in true London Irish style, I will try to remember what I thought as a fan and from my seat in the ground at the time.
The beginning of the match was flowing easy on the eye, two good kicks at goal from Bell, one from Quins, Irish were putting in big hits on Quins, there seemed nothing between the two teams, all of a sudden Irish get the ball from Quins in their own 22, the ball is kicked across field to Topsy who seems to have a younger body than last season and he offloads Mulchrone who seems to have faster legs than I realized, Topsy collects the ball and does an audacious swan dive for the try, my heart is trying to jump out of my chest and hug me, I find I'm the only one in the block on his feet cheering, but then the referee goes to the TMO, my heart sinks and I think, probably no try, I expect them to not give it, but it stands, I calm down, but then I'm back on my feet for another try, I was not expecting this, this was getting slightly unreal. Bell was showing off by getting all of his kicks, as well as getting a try.
Quins get a try back and then it's half time.
In the second Quins are throwing everything at what seems like a brick wall and in return when Irish have the ball they get points, Quins get a yellow card and the guy next to me has his head in his hands, I know the feeling.
Irish score another try that had so such interplay, it was hard to work out where the ball was until big Trev scored with it.
I'm dancing now, (alone).
Quins started to play now as if awoken from a daze, they score a try, I look at the match clock there is still enough time for them to come back.
Quins score another try and as I sink lower in my seat the guy next to me sits up in his, the match clock seems to be slowing down, I think it's broken.
Quins score yet another try, the guy next to me is dancing and licked my ear (this actually happened).
There was not long to go, Quins pushed on, they could snatch the game. I decided to cheer on the boys in our moment of need, Irish must have heard me as the solitary figure of the feisty McKibbin raced through to score and that is game over.
I could see as I looked on the big screen the team jumping on each other, and the coaching team trying to look neutral, apart from a slight smirk on Dec's face.
Irish 39 – Harlequins 29