What a load of poo!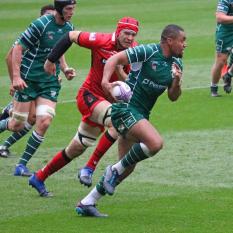 By Props Are Not Stupid
October 18 2017
Let me you back to the second of September at around 3.30pm. Mrs PANS, little Norah and myself were walking to Twickenham stadium when a bird that was possibly the size of a small car flying over us decided to go to the toilet. Luckily Norah didn't get dirty, I got a bit of poo on my arm and Mrs PANS was completely covered in it, she was so full of the bird's excrement that she had to take off her top and we purchased a London Irish top from the merchandising outside the ground. Apparently being shat on by a bird brings good luck and indeed it was a good omen, as not only we beat local rivals Harlequins but also we scored the bonus point try on the last play of the game.
Well, guess what? 6 weeks later I collect my suit from the dry cleaners. I decide to put it on as I was feeling a bit cold when a bird decided to do the business on my freshly cleaned jacket. Obviously I wasn't happy, but my first thoughts were about the London Irish game on the following day. Just like our previous victory, we were huge underdogs as we were fielding a young inexperienced team against an Edinburgh team with much greater experience.
Our priorities this year lie in avoiding relegation in the Premiership and we are using this competition to blood new players. It is a pity, as the final will be played in my hometown, in the stadium of my local team which I have visited many times in the past and I am planning to go back there next May to watch the European rugby finals. Sadly it is very unlikely that I will get to see my favourite rugby team playing at my football team's ground.
I got to the ground two hours before kick-off and I could see our whole matchday team on the pitch, having group huddles while they listened to the motivation speeches from Dodge and Kendo. They seemed to be really up for it and I was feeling quite positive about our young talent having a great start in this competition. Sadly the game was disappointing to say the least. The first half was fairly even with a firm Irish defence that stopped Edinburgh from scoring for the first 22 minutes of the game, when winger Damien Hoyland slipped through the Irish defence to score. Only 4 minutes later man of the match Solomoni Rasolea put the Scots 2 tries up, which was soon responded by our only try of the game from tight-head prop Olly Hoskins.
We went to half time with a score of 11 – 20 to Edinburgh. At half time I spoke to some Scottish friends and I told them that we always win the second halves, so they should just leave and forget about watching the second half. With 11-20 on the scoreboard Irish had plenty of chances to get a try that could have changed the game, however it wasn't to happen. Edinburgh got three more tries in the second half and for the first time this season Irish lost the second half 3-17, making the final score 14-37 in a game that felt disappointing, frustrating and far too long. On paper we had a backline that could cause serious harm, but they really never had the chance to find some open spaces which they could run through at speed.
Irish will travel to Paris this weekend to face a Stade Francais side that had a surprise defeat against Russian club Krasny Yar. I hope that the many travelling supporters will enjoy their time in Gay Paris and that our lads (possibly the same team that played last week) put a show for them.
View a Printer Friendly version of this Story.
What a load of poo!
The Craic www.londonirish.org (IP Logged)
18/10/2017 10:49
What do you think? You can have your say by posting below.
If you do not already have an account
Click here to Register
.
Sorry, only registered users may post in this forum.
More London Irish headlines
London Irish Poll