A Tale of One City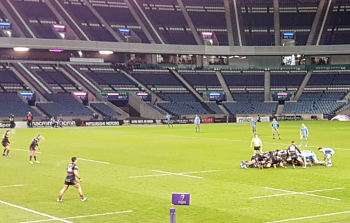 By Griff
December 15 2017
It was the best of times, it was the worst of times... The best? Edinburgh is a fabulous city, I've always liked it and I still do. It's not too big, the people are fantastic and then there's the whisky... The worst, however, was almost all rugby... if we're even calling Irish's attempt on Saturday "rugby".
It all started so well, I hadn't been looking-forward to finding my way to Myrefield, it just loked like hassle (I was planning to simply get a taxi to avoid having to work out the bus routes not knowing where abouts I'd end-up in the city) but mid-afternoon I discovered that the match had been moved to Murrayfield due to a frozen pitch. Result!
We were staying at Edinburgh Park and used the tram to go into town, passing the National Stadium en-route. That was a much easier (not to say cheaper) proposition. We got to the stadium to discover that the £25 tickets were now £20 - it was a good day. Chilly, though, there were a few deeply-upset brass-monkeys around but as The Big Yin says "There's no such thing as bad weather, just inappropriate clothing" and I'd packed my big coat (and I'd taken the opportunity to don a thick "beer jacket" too).
My memory of a previous visit to Murrayfield (the now infamous Mulledwinemarie Wake Incident) seemed clouded - I could've sworn there was a running-track in the way last time. Since we were all crowded in the East stand the 3K plus crowd didn't seem too few, the view was good and the locals were giving and taking banter well.
The game even started well with Irish setting-up a stall in the Edinburgh half early-doors and holding station there whilst even threatening the home line occasionally. Even weirder, either through the addition of the new front-row personnel or because Edinburgh don't have a pack to speak of, Irish were getting the upper-hand in the scrum. After a lot of pressure Irish took the points on offer with Tommy Bell stroking a penalty through the posts.
There's an old rugby addage "Forwards win games, backs decide by how much". Like many similar phrases it suffers just one flaw - it's not universally correct. While Edinburgh had a, shall we say, "underepowered" pack their backs were really very good - especially their inside centre Burleigh who terrorized Irish all night. While they didn't get much from the tight the home side scooped-up any loose play and made metre after metre from it - and there was much loose play from the Exiles.
All the early pressure was for nought with the Scots' backline tearing holes in the green defence. 0 - 3 became 5 - 3 (although this was from a driving maul incredibly), then 12 - 3 before Irish came-back wth their own try from Ben Ransom chasing-up a fine grubber kick from youngster Ben Loader to give us hope. It was samll hope, though, 12 - 10 still didn't feel like we were in the game.
The second Edinburgh try was to set a rather odd patten for the night. A through kick was chased over the goal line and this was then fumbled by Irish (Greig Tonks in this case) to allow the home side to gratefully dive on the ball to score. Once in a game would be upsetting but forgivable. This happened at least three times in this match!
Having got back to near-level Irish decided to have a bit of a breather and allowed man of the match Burleigh to score two quick tries to have the game and the bonus point sewn-up before half time.
There was more of the game but as I said above the pattern of grubber-kick, Irish fluff it, Edinburgh score got a bit dull. A well-angled grubber or chip seemed to completely throw our defensive patterns and the home side used this tactic to very good effect.
A good ground-out maul gave a try to Coman and a real thing of beauty with some rare back-play for once allowed Ben Meehan to score a snorter down the left wing ably assisted and mostly created by Ransom. Those were, though, our only good moments.
We ended in a sequence that pretty-much summed-up the game. 43 - 20 down and deep in our own half with time run-out and on a night when apart from one bight spark the backs have butchered everything we decided the fourth try was on. Not withstanding that the backline hadn't really made an impact all night we decided that the best way out of our own 22 was a cross-field kick from around the 5m mark to the opposite wing around our 22m. Of course none of our boys were there... there was a Scot, though, and in-keeping with the rest of the match we duly flapped some arms at him while he ran-in another try, the conversion gave the hosts a half-century for their efforts. They deserved it, so did we.
Of course we all knew it was almost a dead-rubber having given up the home game in almost an identical fashion but when you're sat in sub-zero temperatures encouraging the lads it does feel a little bit like you can expect a bit of effort from them. As it stands Stade might want soemthing from the leg this weekend, we don't really have much to play for and the games against Krasny Yar feel very empty indeed.
As I said at the start, we had a fine weekend in Scotland's capital - I'd recommend it to anyone. The experience wasn't dimmed by the rugby. British Airways cancelling two planes on me nearly managed it but an unlikely hero of Virgin Trains came to the rescue before it got too bad.
View a Printer Friendly version of this Story.
A Tale of One City
The Craic www.londonirish.org (IP Logged)
15/12/2017 16:41
What do you think? You can have your say by posting below.
If you do not already have an account
Click here to Register
.
Re: A Tale of One City
16/12/2017 10:46
Good stuff Griff. You sum up our ineptitude very accurately
With the travel issues it sounds similar to our weekend as well...!
Sorry, only registered users may post in this forum.
More London Irish headlines
London Irish Poll