Déjà vu all over again Jeff!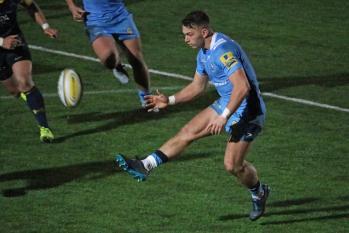 By LI Bohemian
December 29 2017
I managed to get to the game, as most of the travelling Irish supporters by having some time off work, we drove up and parked in an adjacent rugby ground, car park and walked through a tunnel to the front of the stadium, this was my first time at Sixways, I thought that the place was very welcoming and the right size for a rugby ground.
In our seating area in the East stand there were quite a few fellow Irish supporters, they had turned up knowing, as I did, that this game was the final test of where we really stand in the premiership.
The game started and pretty much ended with Irish toiling, huffing and puffing but apart from Lewington, the team had little confidence and knowhow to convert their work into points. Worcester like most of the teams we have played so far, just sat back and did their defense work, committing 1 or 2 to the rucks and then when in possession scoring easy points, which pressurized Irish even more. The mistakes and the rushing of play, made by Irish, followed and then the indiscipline started, unfortunately this indiscipline was against a top official, when you give away ten yards in rugby it is actually more like giving away your right for any fifty-fifty decisions, it is a golden rule Irish constantly break, that for me and most of the Irish fans around me, was too much to bear.
The service from the Irish rucks was in slow motion, you can not possibly gain ground at that speed, Scrum halves seem to be coached out of firing the ball out, at Irish, they come in with pace but then seem to slow their delivery with every game they play. We were watching the same movie we had been watching for a while now. Worcester had an accurate kicker, a very tight defense, a game plan, but most of all belief.
The game ending with a predictable 23 – 8 score line.
I did the write up for the first game of the season, our only win in the premiership, this Irish team proved then, that they can play but have all but lost the know how and belief, if some form of action isn't taken soon, it maybe that we will be sitting through the same movie plot for the rest of the season.
I apologise for the pessimistic nature of my report, I am not like that normally, I try to be even handed, if a little biased to the team, but did feel very downbeat after the match, more with the lack of any threat by the team as we just rolled over again, the low mood was helped on the drive home, when we spoke in the car about favorite comedians and classic sketches, a dead Parrot was mentioned.
View a Printer Friendly version of this Story.
Déjà vu all over again Jeff!
The Craic www.londonirish.org (IP Logged)
29/12/2017 15:09
What do you think? You can have your say by posting below.
If you do not already have an account
Click here to Register
.
Sorry, only registered users may post in this forum.
More London Irish headlines
London Irish Poll