LI Youngsters Step Up…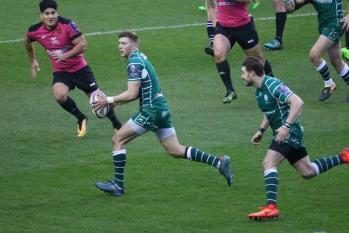 By Shawshank
January 17 2018
Round 5 of the European Challenge Cup saw London Irish welcome Krasny Yar from Siberia to the Madejski. Shawshank reports on the match.
The Game

A final score line of LI 47 Krasny Yar 17 suggests a one-sided match, but in truth until the last quarter this game could have gone either way. Superior fitness, a stronger bench and some much needed self-belief however finally saw LI romp away with the match in that last 20 mins, with Theo Brophy-Clews scoring an astonishing 4 tries in that period.

Earlier, a chill but dry January afternoon welcomed our first ever Siberian guests to the Madstad, and Krasny had the majority of the early possession, and they looked a very well drilled and compact outfit, keeping possession through multiple phases and having any number of robust ball-carriers. It was only some stout defence from LI, in which Olly Hoskins and Max Northcote-Green were prominent, that prevented serious damage.

It was no real surprise when Krasny went ahead - a strange try when a badly out-of-sorts Tommy Bell poorly misjudged a kick, letting it bounce and was then left floundering with the Russians kicking through for a simple try near the posts which was converted. Russian pressure continued for all of the first half, and when we did get finally get the ball it was – to nobody's surprise - invariably aimlessly hoofed away by Scott Steele. On the few occasions he didn't, he was incredibly ponderous at the breakdown, taking an eternity to pass the ball out and allowing the defence to re-set at their leisure.

However, we finally did manage to spin the ball down the line for a superb piece of skill from Ben Loader on the left wing, who under severe pressure chipped ahead and then collected expertly to slide over the try line, and levelled it at 7-7. However, Krasny continued to pressure for the rest of the first half, gaining a penalty to leave the score at half-time 7–10, and with a very well-deserved lead.

The second-half started in much the same way as the first with constant Krasny pressure, and again only some committed LI defence on our try line held the Russian marauders out. However, in an eventual foray into their half we had some driving line-outs near their line, and after these were repulsed, TBC skipped through some defenders to score under the posts, which was converted for a much-needed boost.

The team seem to gain confidence with this, and with Krasny also running out of steam, the rest of the match was a complete turnaround - some excellent running from the London Irish backs, with Ben Ramsom prominent, and also combining with the forwards in some great interplay, creating some holes in the Krasny defence for TBC to scorch through for 3 more tries. Lovejoy Chatwama and Joe Cokanasiga also added some tries, and some excellent conversions from Jacob Atkins also kept the score rattling along.

However, Krasny never gave up, and a late breakaway try from them was well deserved, leaving a final score of London Irish 47 Krasny Yar 17.

MOTM

Man of the match had to go to TBC with his four tries, although he was also prominent in the first half with some excellent midfield defence. This game surely showed that his future must be at 12, where he looks to have all the skills needed – aggressive defence, good distribution, some elusive running and great acceleration. With Johnny Williams not really having added anything to his game since he burst onto the scene 2 seasons ago, I would like to see TBC now play at 12 for the rest of the season.

However, other notable performances were from Isaac Curtis-Harris who provided some impressively belligerent runs in the first half before he was injured, and his replacement Josh Basham also was very prominent in the loose. In truth, all the young London Irish players played well and to my mind were chiefly responsible for the win.

Stray Observations

- Surely this game provided enough evidence for the coaches to ditch their current obsession with the scrum-half kicking away hard-won possession. Once we started to keep the ball in hand and actually ran with it we saw confidence visibly growing in the players and they showed we can produce some excellent running rugby.

- For his first game at 10 for the seniors I thought Jacob Atkins had an excellent match – he was nicely composed, wasn't afraid to take the ball to the line, and he distributed well.

- A potential back-row in a couple of years' time of Northcote-Green, Basham and Curtis-Harris looks very interesting.

- Finally, wasn't it nice to leave the Madstad in a good mood for a change…?!
More London Irish headlines
London Irish Poll