The noisy neighbours do the double on Quins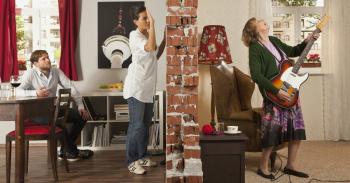 By Props Are Not Stupid
April 10 2018
I don't remember a game when I was so nervous as I walked into the stadium. This could be the day our relegation could be sealed. At the same time, this could be another historic day in the Stoop. In spite of our upward progression following the appointment of our new coaches and a bad run of form of Harlequins, the home side were odds on to win this game.
After purchasing my ticket I speak to a couple of Irish supporters and I get on my seat in the South Stand a good 20 minutes before kick off. For the next hour or so casual Quins supporters keep walking around me trying to find their seat. I have always thought that the Stoop is the place where people go and socialise and rugby is something that happens in the background for many of them.
The game kicks off and it is London Irish the team that has all the territory and possession. Our new simple style of rugby of quick pick-and-goes forwards reminds me of the style of rugby Exeter Chiefs played when they got to the Premiership and is still serving them so well. Minimise the risks, don't try that risky pass and make sure the gain-line is behind you. It is not long (about 2 minutes into the game) that Lewington scores our first try only to be disallowed by the TMO, who had a busy day in this game. I couldn't see much from my position in the South Stand, so I assume that the TMO was right. This mistake didn't seem to upset London Irish much, as they kept knocking at Quins' door and eventually our new scrum half Piet van Zyl scores 10 minutes later after a quick succession of short, sharp passes. Not many of us thought that we needed a new scrum half, but his addition to the squad has been incredibly positive.
Piet added a second try after collecting an awkward bounce inside the try area following a kick from Lewington. The Quins defence was nowhere to be seen.
Another 10 minutes and another Irish try, this time the TMO decided there was nothing wrong with Northcote-Green's grounding in the corner and we find ourselves 19-0 up with half an hour being played. Following the recent experience of losing last week's game after being 17-0 up and even though Quins didn't manage to make much of the not many chances they had in our 22, the game was far from safe in my mind, but I believed that if our defense kept Quins away from our try line before half time, there was still some hope of another historic victory at the Stoop. Well, not only we did that, but also we scored a penalty just before the end of the half, so a score of 0 - 22 at half time was somewhat reassuring.
We only needed to score first in the second half and keep our penalty count really low (I only counted 2 penalties from Irish in the first half) to put the game to bed, and Bell did with another penalty. 25 - 0 to Irish and a quick check on the phone tells me that Worcester are losing 6-13 to Newcastle.
Quins reaction eventually came, and this time it was Jack Clifford who was the first to land on a loose bouncing ball on the Irish try area. Conversion missed, 5 points to Quins. That's all they got and that's all they deserved. It was all a question about if London Irish could get a fourth try that would give them the bonus point, and the try happened shortly after. Danny Care, who had a game to forget was sent to the bin for holding his opposite number on the ground. Another kick into the try area is this time collected and grounded by Fowlie. 64 minutes gone, Irish have scored their fourth try, Quins are down to 14 players and there is a massive exodus of Quins supporters leaving the ground. I mention it to the Quins supporter sitting next to me and he replies "Can you blame them?" He and his group also left a couple of minutes later. I felt a very strange feeling, as I am used to see Irish trying to chase the game in the last quarter, but this time the last quarter was all about Quins pressing the self destroy button and Irish being very disciplined in defense and very intelligent in attack. The final score of 5 - 35 was a true reflection of either team's performances and was only shadowed by a last check on the phone which confirmed a bonus point win for Worcester, which leaves us in the same position that we were before the game.
[Ed's note: PANS is incorrect here - Wuss didn't get a TBP and so we're 9 points behind them now as opposed to 10]
Anyhow, I witnessed yet another historic win at the Stoop and as it happened before I drunk and drunk and then drunk a bit more, maybe that's why it has taken me three days to write this much report.
We now have Exeter, Saracens and Bath. Playing like this I am confident we could get ten points out of those three games, but I have got a feeling that they may not be enough to stay up as Worcester and the other teams that could mathematically go down (that includes Quins, by the way), may still scrap the points they need to stay up.
More London Irish headlines
London Irish Poll