My Lucky Seat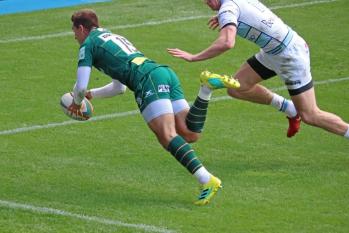 By LI Bohemian
September 27 2018
Sundays match was the first home game I've attended this season, it did feel like a season opener as the game last week had been rescheduled giving Irish a week off, this seemed to make Irish a bit rusty, something that persisted for most of the match. Bedford on the other hand were not the team that I remember when Irish played them two seasons ago they seemed to lack ambition although they had plenty pace in their backs they repeatedly kicked away possession and rarely gave chase.
The game started with some good ball carrying from Irish, working through phases, but not really breaking a very well organized Bedford defense, this seemed to go on for a life time, making this part of the game dull.
Then a bit of class from Myler, as he chipped a grubber behind the charging Bedford defense, for Parton, the only Irish player who seemed to have any pace, to collect the ball and race to the line.
This is followed by more Myler class, as he, this time sells an outrageous dummy and races through the gap he has made to score and convert a Try.
The following try, again scored by Irish was down to some great foot work from Parton, were he received the ball out wide, after making the initial line break, he stands up the would be tackler and races around him to dab down the ball in the corner, Myler converts a touch line kick.
You might think, that Irish were going to run away with the game at this point, but this is London Irish.
At this point in the game a gentleman asks me to move because I'm in his seat, I am surrounded by probably twenty empty seats, as is the case in these Championship times, he is serious and I do chuckle to myself as I move to a seat in a better position, I do love a Monty Python moment. On the restart to the Parton try, a relatively easy catch is knocked on and from then on it is a catalogue of errors by Irish, along with some questionable decisions by the match official, don't get me wrong I'm not blaming the man in the middle for our lack of cohesion, but I did find his game management slightly confusing.
Bedford got a well-worked try for their exertions. Irish seemed to gather their composure after the Bedford try, but then half time came, with the score at 19 - 5.
The second half started a bit like the first with an arm wrestle, but added numerous mistakes. Then there was a long stoppage for an injured Bedford prop that looked quite serious, both teams left the pitch, returned to warm up and finally restart the game.
The rest of the game was scrappy and stop start, Bedford amazingly opted for a Penalty kick after some good pressure, this was followed by a line out drive from Irish and a try for Porecki, giving Irish the bonus point.
Bedford then were very generous in gifting a try, firstly from a penalty kick by Bedford to the corner that went the wrong side of the corner flag, the drop out went long and the clearance kick was scuffed into the hands of Stevenson who scored running the ball from the Bedford 22 meters line, that was the last time Irish got out of there half.
After a flurry of cards for Irish players 2 yellow, 1 red, and too many penalties to count for Bedford, Bedford got two tries, one from a pick up by the number 8, who seemed to have more room around him than I had in my first seating position in the stadium. The other try was inevitable against 13 Irish players and an official who couldn't come to grips with the new tackle laws, this is getting a concern as the tackler is not allowed any margin of error, this will also cause problems for taller players against shorter players, this along with no TMO in the Championship will only add to the confusion.
The game finished 29-20.
On the whole a strange game where again Irish fail to put away weaker opposition, a lot like last time we were in this league, also apart from Parton we seriously lack speed in the backs at the moment, on the other hand we collected five big ones compared to Bedford's empty zero.
View a Printer Friendly version of this Story.
My Lucky Seat
The Craic www.londonirish.org (IP Logged)
27/09/2018 13:44
What do you think? You can have your say by posting below.
If you do not already have an account
Click here to Register
.
Sorry, only registered users may post in this forum.
More London Irish headlines
London Irish Poll