Sloe Gin Recipe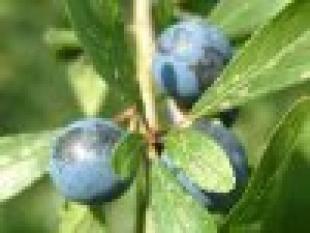 A Sloe Yesterday
By OxonRob
September 22 2005
At the Craic Open 2005 OxonRob had a hip-flask containing his Sloe Gin. It was a big hit, even though it did NOTHING for Robin's round. Here is the recipe, preserved for posterity. Sloes are the fruit of the Blackthorn, and are in the hedgerows NOW [End of Summer/Autumn]! (Not nice to eat, however, being bitter.)

This is what I do.

Get about 1 1/2 - 2lb of sloes. The more the better, but for 2 litres of hooch 2lb will do.

White sugar, about 1/2 the weight of the sloes.

Gin. Lashings of it, as cheap as you like, provided that it IS gin!

Empty 2L bottle (Coke, Lemonade etc)

Can you guess that I never weigh anything? I simply use my eyes.

Wash the sloes, and either sit in front of the TV with a little paring knife and slit the skins or just put the fruit in the freezer. This will split the skins for you and save you some trouble.

Place split fruit in bottle. Add sugar. Add gin to near the top. Close bottle and place in dark cupboard.

Take it out once a week and shake it.

Three months later taste it, just to reassure yourself. Add a little more sugar if you want to. (I have never done so.) Continue to leave it in the cupboard, and to shake it once a week. (Yes, for a year if necessary!)

There are those who serve their sloe gin after 3-4 months. I am not one of them, believing that it improves with age in a dark place. I never produce it before 12 months, although I do admit to reassuring myself just occasionally.

What you had on Friday (at the Open) was exactly two years old.
More London Irish headlines
London Irish Poll