Future Hope Harlequins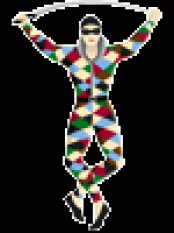 By Prof
July 27 2006
Future Hope is a charity that was set up by Tim Grandage in 1988 to give the chance of a future for some of the street children living in Kolkata (Calcutta). As well as housing, treating and feeding the children they also get the chance to play rugby.
Tim has a good rugby heritage – he was at Rugby School and he is also a member of Harlequins, his grandfather (William Grandage) was a hooker for Quins before the First World War and his cousin once removed (Christian Melville) captained Scotland between the wars.
From modest beginnings Future Hope has grown from one site to running five sites and a school for over 200 children.
The rugby not only gives them a chance to get rid of pent up energy it also allows them to bond with each other, learn teamwork, grow in confidence and get fitter and stronger.  As well as rugby, the children play cricket, football and hockey. A coach from the Indian women's football team comes in to coach the girls and youngsters who show talent are nurtured. Boys and girls have attended coaching at Kolkata's premier South Club and boys have attended Arun Lal's cricket academy. 
But Future Hope are best known for their success on the rugby field they regularly beat every school side in Kolkata at U19, U16 and U13 level.
In 2004 they started playing rugby under the name of Future Hope Harlequins when Mark Evans and Bob Hiller made them an affiliated club. Quins had informally supported Future Hope for a number of years but the change in name gave the staff, players and supporters a real boost. 
At the end of 2005 India won their first U19 game against Pakistan in the Asian U19 Championship, that squad included ten Future Hope players .
When they came over to the Rosalyn Park VIIs a number of their best players were spotted by scouts and five (Kabir Mallick, Sukhra Ekka, Tapas Chakraborty, Dhiraj Kumar Vishvakarma and Jeevan Bose) were given sports scholarships to came over to study in the UK, giving them chances to study and get careers that would have been a mere dream if they had stayed living on the streets. Kabir Mallick had previously been chosen by the Bengal Rugby Union as the most valuable player of the year.
Over the last few of years Nick Hyde and members of Quins' Community Development Team have gone over to Kolkata to help train them and more importantly to train their coaches which will allow the older students to go to out to other schools and spread the word of rugby further. 
In 2001 the IRL awarded Tim Grandage the Spirit of Rugby Award but Future Hope isn't just about producing some of India's finest young rugby players it also gives children under its care a real chance to get away from a life on the street, get a good education and a good job and provide for themselves.
With a private school education costs something like £4 a month and feeding 10 children four meals a day costs £4 every little helps. I would like to see Quins fans raising money for Future Hope and if this site can help then all the better. If anyone has any ideas on ways to raise money for Future Hope please drop me a line at prof@comeallwithin.co.uk.
For further information on Future Hope visit their website at http://www.futurehope.net.