Hove 26-5 Harlequin Ladies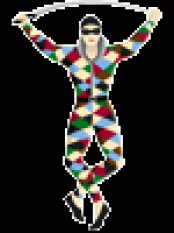 By Ros Holder
September 29 2006
It was an unseasonably hot day, testing condition for our first league match. After a stuffy, sleepy drive down it was imperative that Harlequin Ladies had a good physical and more importantly a great mental warm up. Hove got their game off to a solid start with a converted try within 5 minutes. Harlequins held Hove off for 30 minutes. Some really solid work in defence with tackle after tackle and a great kick from Amy Gibbons gave Jess Francis the opportunity to run in a score.

Soon after Hove came back with another try, Harlequins lost momentum and conceded two more trys.

All was to change in the second half with Harlequins stepping up their defence. Amy Gibbons continued to kick well. Cally Hocknell kept up the pressure forcing Hove's full back to make mistakes. Claire Tirebuck had a storming run and was supported well by Lauren Cooper. On a couple of occasions Harlequins were foiled at the try line but the score in the second half was kept to 0-0.

A lot of positive things came out of the second half that Harlequins can build on at training. Our next match is against Blackheath on 1st October at Roehampton Vale.

More Harlequins headlines
Harlequins Poll