Harlequin Ladies 7-22 Blackheath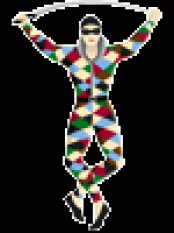 By Ros Holder
October 8 2006
It was a miserably wet day with thunder and lightning to boot but our spirit was not dampened. Quins had a tactical session in the club house before having a short but intesive warm up. Every effort was made by Harlequin Ladies straight from the off. Quins dominated the first half, holding Blackheath in their half for most of the 40 minutes. Blackheath challenged Quins on a couple of occasions but Quins' defense was strong and Blackheath never managed to break through.

Quins were hoping for a repeat of the first half, with of course a score here or there, and within four minutes of the start of the second half Kay Rees intercepted a pass and ran half the length of the pitch to score. Amy Gibbons converted the try. Unfortunately Blackheath's fitness proved to be that much better than Quins and they scored several times in the remainder of the match. Quins coach Gavin Towers believes the Ladies effort was never in doubt but they must improve their fitness in order to get to the breakdown quicker and win those 50-50 balls.

Harlequin Ladies have a rest next weekend but they will be playing Camberley away on 15th October.

More Harlequins headlines
Harlequins Poll