Camberley 7-3 Harlequin Ladies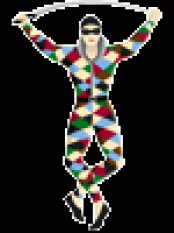 By Ros Holder
October 17 2006
After a trip round most of Surrey, Quins managed to finally find their way to Camberley's second home, Frimley Lodge Park. It was yet another hot day but Quins were determined that the weather was only going to be a positive. After a sweep of the pitch for possible doggie hazards the match got underway.
Quins had a great first half, dominating play and keeping Camberley pinned in their own half for most of the 40 mins. Quins pushed for a try and lost the ball, when they should have perhaps gone for a penalty and the three points. The second time the chance of three points came along Amy Gibbons took the kick and only very narrowly missed the posts.

The Ref proved to be a stickler for safety throughout the match and pinged Quins repeatedly for high tackles. Unfortunately the ref thought that Quins offended once too often and sent off a crucial player after he deemed that she too had committed a high tackle. Camberley saw their chance, kicked for the three points and missed but the ran in a try whilst Quins were one woman down.

The half time chat was one of positives and encouragement. Quins were doing everything correctly, they just had to stick at it. Sadly it was not to be, yet again. Quins know they can win, they have the skills and the determination. They just need to continue playing as they have done, improving each week and surely a win will come soon. The final score was 7-3 to Camberley.

Harlequin Ladies next league match is home to Ipswich on 29th October.

More Harlequins headlines
Harlequins Poll