Harlequin Ladies 20-12 Ipswich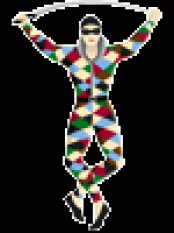 By Ros Holder
November 1 2006
On yet another hot and sunny day Harlequin Ladies met at Roehampton Vale to play Ipswich WRFC. Ipswich arrived early after a long journey and were out warming up long before HLFC.
The short sharp warm up that coach Gavin Towers has designed for Harlequin Ladies really does seem to suit though as the Ladies were totally focused when they stepped onto the pitch for kick off.

Straight from the off Harlequins dominated the game. The majority of play was in the Ipswich half and it was not long before Amy Gibbons was given the chance to put some points on the board. Amy bravely kicked for an awkward 3 points but missed. This didnít matter however as it was not long before Harlequins started to run in the trys. Wing Cally Hocknell, Amy Gibbons, Captain Kate Sinfield and Number 8 Pippa OíRegan all scored. Cally Hocknell scored her first try for Harlequins with help from number 5 Helen Cushion. The forwards helped Pippa to score her try by catching the ball in the line out and pushing the maul for 10 metres.
Ipswich were not a push over and indeed their nippy number 12 ran in two tries, one of which was converted.

The final score was Harlequins 20 Ipswich 12. The HLFC girls went off the ice bath with smiles on their faces.
More Harlequins headlines
Harlequins Poll