Romford Ravens 24-22 Harlequin Ladies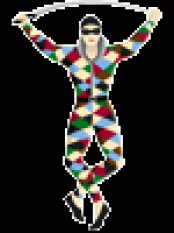 By Ros Holder
November 13 2006
Both teams observed a two minute silence to remember those who died for their country and also to remember the OA Saints 2nd team captain, Georgie Robinson, who died in a car crash recently.

The game kicked off with both teams starting a little tentatively as they found their feet, but early big hits by Alex Leigh and Ellie Saunders signalled Quins intent. The first 10 minutes were a bit scrappy, although Quins were camped in Romford's half. A needless penalty by Quins saw the Romford 13 sprinting for the line only to be stopped in her tracks by a superb "flying squirrel" manoeuvre by Jo Everett. (who wasn't even warned for it!!!)
Quins then steadied themselves and pushed back down the pitch. A great break by Karen Cardy saw her sprinting clear to touchdown over the line. Romford immediately responded and Quins found themselves defending their own line furiously! A penalty relieved the pressure but Romford picked up the clearing kick and charged over to score. Buoyed by this success, Romford attacked from kick off and scored again quickly. Quins kept their composure and pressurised Romford into conceding a penalty in their own 22. Ellie Saunders then stormed through their defence to score under the posts, (pretty amazing as she had received a blow to the head in an earlier tackle and was still suffering from it!)
Quins came out all guns blazing after half time and Ellie again stormed through Romford for a try. Romford retaliated, upping the intensity of their attack and finally broke through the Quins defence to score. Undaunted Quins were straight back up at them and Kitten Smith scored a sweet try by slipping blindside from the back of a ruck. In the last minutes Romford's speedy centre managed to slip the defence and score giving Romford a very hard fought victory by just 2 points.
Quins should take pride in their never say die attitude and take this forward into the upcoming league fixtures. 
More Harlequins headlines
Harlequins Poll